31 Crochet Washcloth Patterns – Blog Hop & Bundle
Please note: This blog hop has ended! Feel free to take a look at the patterns that were included, visit the designers' websites, or purchase the pattern bundle!
Washcloths are my favorite quick and easy crochet project for when I want to learn a new stitch, make a quick gift, or have some new ones for my home! Made with the right material (100% cotton), crochet washcloths are both durable and highly useful in both the kitchen and bathroom.
This blog hop features 31 different crochet washcloth patterns for you to try! These washcloth patterns range in size, shape, stitch, and more! You'll love these quick and satisfying crochet projects!
How Does it Work?
If you've never participated in a blog hop before, no worries! It's quite simple! You can think of it as a virtual scavenger hunt, where you will find new designers to follow and get free patterns while you're at it! You'll "hop" to each designers blog to get the free pattern details. By doing this you help the designers grow their business, all while receiving a free crochet pattern for it!
Here's how it works:
I will post each day, in this roundup post, the new featured pattern for the day. That pattern will be free for 24 hours. From 8am EST to 8am EST the next day.
You will come to this roundup post and scroll down to the days featured pattern. There, you will get instructions on how to get the free pattern download. Sometimes it will be a coupon code for Ravelry, and other times it will be an easy direct download.
Then, you will click the link that will take you to the designer's website, where you will either get the link to Ravelry or download the pattern right from their site.
From there you will download the pattern to your device or library for free!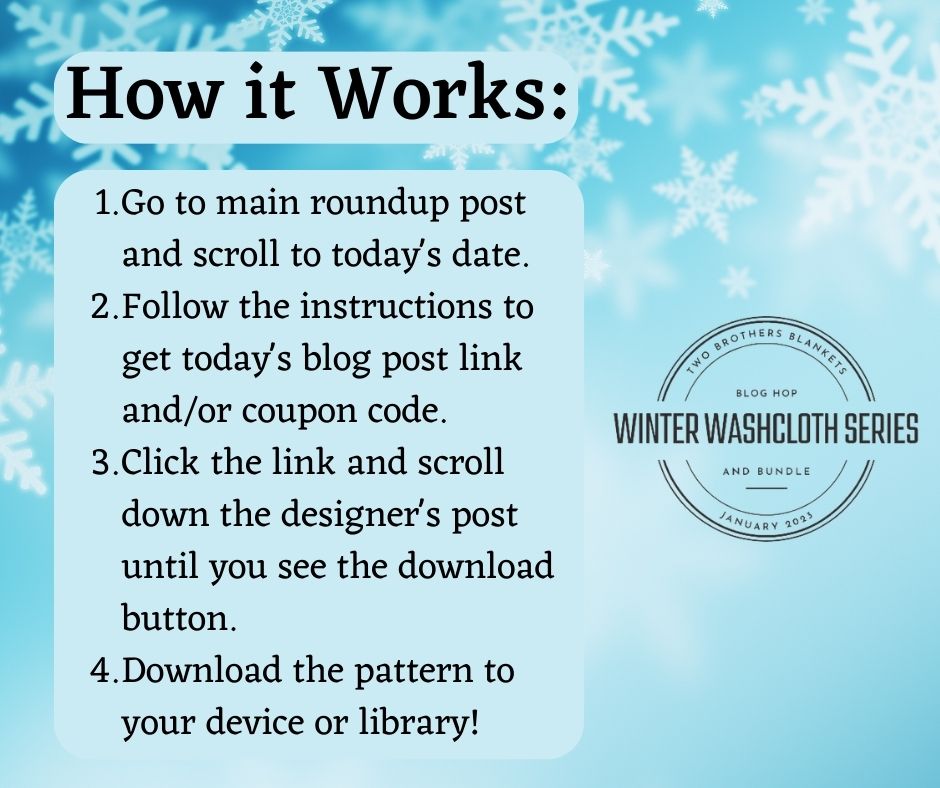 What if you miss a day?
I know how busy life is and remembering to come back every day to download the new pattern can be hard. So the best way to avoid missing the freebie for that day is to go ahead and grab the PATTERN BUNDLE with all 31 patterns included!
I will also be posting each day in my Facebook group, so be sure to join!
Daily Patterns
** Link and code/direct download info will be ABOVE photo for each day.
After you click the link, keep scrolling until you see the Winter Washcloths "Download the pattern here" button.
Day 1: Evander Washcloth by Two Brothers Blankets
Day 2: Simple Moss Stitch Washcloth by Juniper and Oakes
Day 3: Beginner Half Double Crochet Washcloth by Blackstone Designs
Day 4: Allure Washcloth by Ambassador Crochet
Day 5: Cascade Washcloth by Simply Hooked by Janet
Haylen Washcloth by Through The Loop Yarn Craft
Day 7: Sedge Stitch Washcloth by Carroway Crochet
Day 8: Even Moss Stitch Washcloth by My Crochet Space
Day 9: Iris Stitch Washcloth by Crafting Each Day
Day 10: Ursula Washcloth by Crochets by Trista
Day 11: Ebbing Tides Washcloth by Sunflower Cottage Crochet
Day 12: Teatime Dishcloth by Raffamusa Designs
Day 13: Corded Dishcloth by Creations by Courtney
Day 14: Shells Dishcloth by Krissy's Over the Mountain Crochet
Day 15: Terrebonne Washcloth by Bliss This
Day 16: Brickwork Dishcloth by The Unraveled Mitten
Day 17: Elegant Washcloth by The Purple Poncho
Day 18: Simple Seed Stitch Dishcloth by Salty Pearl Crochet
Day 19: Ranunculus Washcloth by Hooked for Life
Purls and Puffs Dishcloth by Capital Crochet
Day 21: Brookie's Scrubby Set by Snappy Tots
Day 22: Snowflakes & Sunshine Dishcloth by Bizzy Crochet
Day 23: Friendship Washcloth by Two Brothers Blankets
Day 24: Winter Ice Dishcloth by Lakeview Cottage Kids
Day 25: Blossom Washcloth by Ambassador Crochet
Day 26: Sandy Shores Washcloth by Sunflower Cottage Crochet
Day 27: Wedgewood Washcloth by MadameStitch
Day 28: Tiny Texture Washcloth by Wanderland Crafts
Day 29: So Soft Textured Washcloth by Pam's Cozy Corner
Day 30: Mimosa Washcloth by Crochet with Frankie Kate
Day 31: Boston Washcloth by Two Brothers Blankets