Edelweiss Shawl Free Crochet Pattern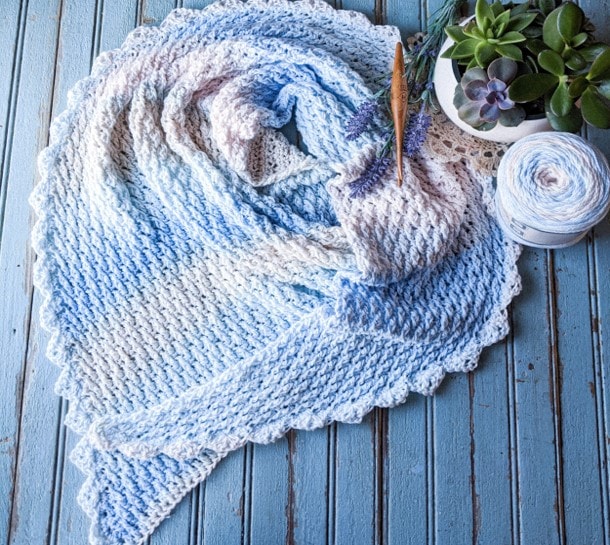 I am excited to welcome another guest blogger to the site today. Rebekah of Rebekah Haas Crochet is sharing her beautiful Edelweiss Shawl crochet pattern!
About the Designer
Rebekah Haas is a mother of four, dog mom of two, and plant mom to countless. In her free time (cue the mindless laughter of one who doesn't sleep much), she strives to create beauty and inspire others to do the same. Find more free crochet patterns, motherhood tips, and DIY tutorials on her blog, www.rebekahhaas.com
If you have any questions about the free shawl pattern, please feel free to contact me.
This pattern is written by Rebekah Haas. I hold the copyright to this pattern. It should not be published, shared, or sold without direct permission of the designer. You are, of course, welcome to sell any items you make using this pattern. If you post pictures of your item on Instagram or Facebook, please credit me with the design by linking to my Instagram account or website. Thank you for choosing to make my pattern! I hope it inspires you!
Pattern Details
This gorgeous crochet shawl crochet pattern is asymmetrical in shape.
It uses approximately 800 yards DK (#3) weight yarn. Rebekah used Yarn Bee Sugarwheel Cotton in the color way Harbor Wish for her sample. I really love the light pastel colors of this yarn!
The pattern is rated Easy in difficulty level.
This shawl is very customizable and is absolutely perfect for spring!
Edelweiss Shawl Crochet Pattern
You can purchase the ad-free, printable pattern on Ravelry!
Materials:
800 YDS of DK/3 Weight Cotton
I used Yarn Bee Sugarwheel Cotton in the color Harbor Wish
5 mm Hook
Yarn needle to weave in ends
Stitches and Terms:
Ch—Chain
Sc—Single Crochet
Sl St—Slip Stitch
Dc—Double Crochet
Fpdc—Front Post Double Crochet
Picot: Ch 2, sc in 2nd ch
Dec: See Special Stitches
Gauge:
11 stitches x 9 rows = 3"
Gauge is worked in Alpine Stitch (see Rows 1-7 of the pattern)
Notes:
U.S. Terms
Stitches between *stars* are repeated. Stitches in (parenthesis) are made in the same stitch or space.
All decreases in this pattern are worked on the same side, to create the asymmetric look.
This pattern is worked in rows. Turns are assumed, not written. Please turn at the end of each row.
Special Stitches:
Decrease: Decreases are two stitches worked together. To work the decrease within the Alpine Stitch, work the fpdc and next dc together, staying consistent with the Alpine Stitch.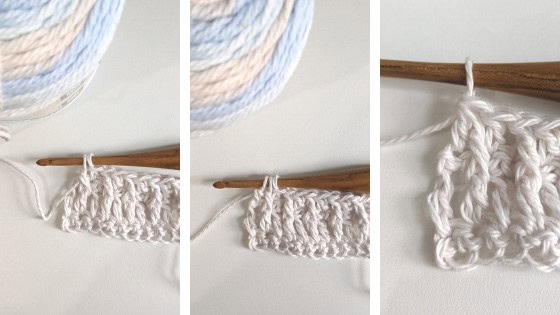 The Pattern:
Row 1: Fsc 81 OR Ch 82, sc in second ch from hook and in each ch. (81 sc)
Row 2: Ch 2, dc in each stitch. (81 dc)
Row 3: Ch 1, sc in each stitch (81 sc)
Row 4: Ch 2, dc in first sc, fpdc around second dc of Row 2, *sk 1 sc from Row 3, dc in next sc, sk 1 dc of Row 2, fpdc around next dc of Row 2,* Repeat until three stitches remain, dc in next sc, dec in Alpine Stitch across last two stitches (See Special Stitches) (80 stitches)
Row 5: Ch 1, sc in each stitch. (80 sc)
Row 6: (Continue Alpine Stitch by working fpdc around each dc of Row 4, and a dc in every other sc of Row 5) Ch 2, fpdc around first dc of Row 4, sk first sc of Row 5, dc in second sc of Row 5, *sk fpdc of Row 4, fpdc around next dc of Row 4, sk 1 sc of Row 5, dc in next sc of Row 5* Repeat until three stitches remain, dc in next sc, dec in Alpine Stitch across last two stithces. (79 stitches).
Row 7: Ch 1, sc in each stitch. (79 sc)
Rows 8-157: Repeat Rows 4-7. (Row 157: 2 sc)
Row 158: Ch 1, sc dec across two stitches. Do not fasten off, but continue to Edging.
Edging:
Row 1: Ch 1, (working along the decreasing side of the shawl) sc 234 across the edge. This ends up being roughly 2 sc per dc and 1 dc in each sc. (234 sc)
Row 2: Do not chain at the beginning of the row, just turn and begin. Skip first 2 sc, *(2 dc, picot, 2 dc) in next sc, sk 2 sc, sl st in next sc, sk 2 sc,* Repeat across. End on sl st. Fasten off, weave in ends. Continue to Finishing Touches.
Finishing Touches:
Block the shawl, pinning each picot to a point to get the most out of the mountainous appearance.
For extra pizzazz when styling, add a tassel to the end of Row 158.
Follow the washing instructions on the yarn you purchased. You may need to block the shawl again after each wash to maintain the peaks of the mountain edging.
Like this pattern? Check out my growing list of Free Crochet Patterns!
Pin it for Later:
Michelle has been crocheting since 2011 and has been designing crochet patterns since 2014! She specializes in modern garments and accessories for your handmade wardrobe. Michelle has been featured in Happily Hooked Magazine, thehooknooklife.com, wecrochet.com, ourmakerlife.com, and several other websites. She is committed to providing the highest quality crochet information and patterns that instill a true feeling of pride, enjoyment, and accomplishment when completing a project.