Crocheting Garments – Tips to Get a Great Fit!
If you've been following me for any amount of time, you know that a lot of my crochet designs are clothing.
I love to design sweaters and tops for both adults and children!
But with crocheting garments, like a sweater, comes a lot of questions and concerns. Mostly about fit and how to get it to fit your shape and size correctly.
So here are my best tips for crocheting garments and getting an amazing fit!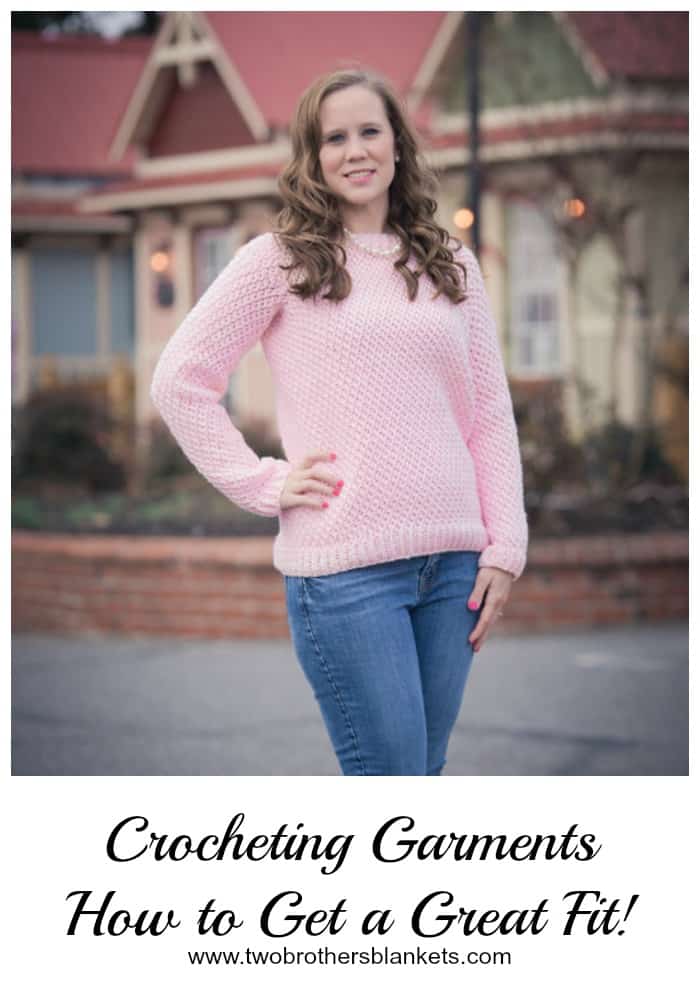 Preparation
Crocheting a piece of clothing like a sweater takes a little more preparation than something small like a hat or a scarf. Here are some tips for preparing for your project.
Choose the yarn called for in the pattern or a comparable yarn. At the very least, stay within the yarn weight that the pattern calls for. You will not get the same fit and look if you use a DK weight yarn if the pattern calls for Bulky yarn and vice versa.
Make sure you have the amount of yarn you need. I always get more than the amount needed for my size, just to be on the safe side so I don't run out mid-project.
Get measurements. If you are making the clothing for yourself, it's a little easier because you can try it on as you go. But if you are making the piece for someone else, it's very important to take their measurements for a good fit.
ALWAYS check your gauge and match your hook size appropriately. Gauge is very important to check when working on a crochet clothing project.
Making Sizing Adjustments As You Crochet
Most of my patterns have multiple sizes for you to make, but what if you are slightly in between sizes, would like just a little bit more ease, or would like it a little tighter? There are ways to easily adjust the fit just slightly so that the garment can fit you exactly how you want it!
To adjust width
Go up a hook size or two (from the hook you met gauge with) if you'd just like a little more ease in your top. Go down a hook size or two for a slightly tighter fit.
If you are right in between sizes, I suggest going up a size, rather than down to the smaller size.
To adjust length
Almost all of my patterns are super easy to adjust the length. You can just do more or less rounds to make your garment longer or shorter. This same trick can also be applied for sleeves.
Neckline
If the pattern calls for chainless foundation single crochet (fsc) to start, but your tension is pretty loose for this stitch, you may want to just chain, join, and sc in each stitch around.
This will make it less stretchy and loose around the neck.
Or if it's the opposite and it calls for a starting chain, but you want it to fit looser and be stretchier around the neck, fsc is a great option. If you just want a slight change in the neckline, going up or down a hook size will also help with this. Just remember, the weight of your sleeves, once added, will pull the neckline out just slightly.
Armholes
If the armholes come up too high and feel tight in your armpits, add a few more rounds of the last round you did (no increases) before going to the round that creates the armhole. This will cause the armhole to
sit lower and not be so tight around your underarms.
Sleeves
An easy fix for a slightly looser or tighter fit in the sleeves is, once again, going up or down a hook size. If the sleeves are very tight or very loose, try working the counts for the next size up or down. Also, if the sleeve tapers, and you would like it not to, just leave out any decreases throughout the sleeve. Or if you'd like it to taper more, do another round or two of decreases throughout the sleeve.
Crocheting Garments from the Bottom Up
Most adjustments work the same way for a bottom up garment, but there are a few changes that you would have to make differently. If the armholes feel too small or too high in your underarm, just make your front and back panels longer before joining. For the neckline, if you'd like a looser fit, work less stitches when stitching your two panels together.
I hope these tips are helpful to you as you tackle crocheting garments! If you're more of a visual learner, here's a link to a live Facebook video I did explaining the exact same adjustments. Once you've mastered how crocheting garments, be sure to check out my tips for Caring for your Crocheted Garments.
And as always, please feel free to contact me at any time if you have trouble or questions with one of my patterns!
Pin it for later: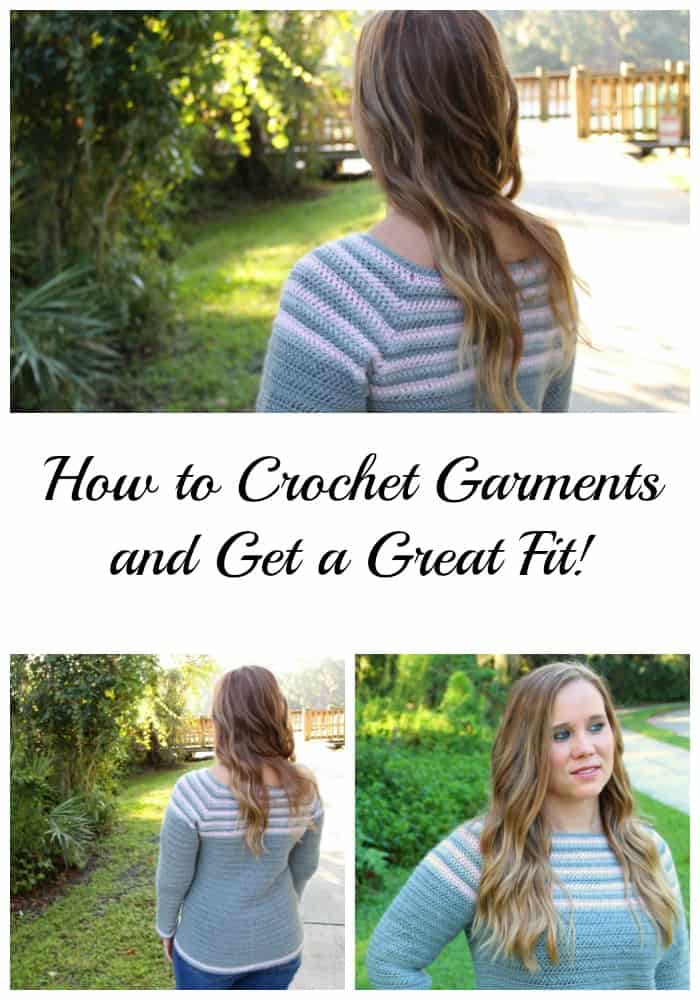 Michelle has been crocheting since 2011 and has been designing crochet patterns since 2014! She specializes in modern garments and accessories for your handmade wardrobe. Michelle has been featured in Happily Hooked Magazine, thehooknooklife.com, wecrochet.com, ourmakerlife.com, and several other websites. She is committed to providing the highest quality crochet information and patterns that instill a true feeling of pride, enjoyment, and accomplishment when completing a project.