21 Crochet Patterns for Men -Blog Hop & Bundle
***This event has ended. Feel free to browse and take a look at the patterns, but the codes and bundle links are no longer active.
About a year ago I set out to design more crochet patterns for men, publishing my book Crochet Makes for Men in early 2023. There just aren't enough modern, stylish, and comfortable crochet patterns for men out there. My mission continues, and I am so excited to be co-hosting this event, Just for Him Blog Hop and Bundle, with Helen of Sunflower Cottage Crochet!
This blog hop and bundle features 21 crochet patterns that are specifically designed with men in mind! You'll find quick and easy hat patterns, scarves, and even wearables and home décor!
How Does it Work?
If you've never participated in a blog hop before, no worries! It's quite simple! You can think of it as a virtual scavenger hunt, where you will find new designers to follow and get free patterns while you're at it! You'll "hop" to each designers blog to get the free pattern details. By doing this you help the designers grow their business, all while receiving a free crochet pattern for it!
Here's how it works:
I will post each day, in this roundup post, the new featured pattern for the day. That pattern will be free for 24 hours.
You will come to this roundup post and scroll down to the days featured pattern. There, you will get instructions on how to get the free pattern download. Sometimes it will be a coupon code for Ravelry, and other times it will be an easy direct download.
Then, you will click the link that will take you to the designer's website, where you will either get the link to Ravelry or download the pattern right from their site.
From there you will download the pattern to your device or library for free!
What if you miss a day?
I know how busy life is and remembering to come back every day to download the new pattern can be hard. So the best way to avoid missing the freebie for that day is to go ahead and grab the PATTERN BUNDLE with all 31 patterns included!
Daily Patterns
The rest of the blog hop is now on my co-host's blog – Sunflower Cottage Crochet! Click the button below to see today's featured pattern!
** Link and code/direct download info will be ABOVE photo for each day.
After you click the link, keep scrolling until you see the Winter Washcloths "Download the pattern here" button.
Day 1: Richard Cup Cozy by Sunflower Cottage Crochet
Day 2: Upper Eastside Sweater by Two Brothers Blankets
Day 3: Jimmy Beanie by Jo's Crafty Hook
Day 4: Highlands Beanie by Carroway Crochet
Day 5: Modern Men's Scarf by Pam's Cozy Corner
Day 6: Pacifica Beanie by Crafting Each Day
Day 7: Winter Color Block Scarf by Remington Lane Crochet
Day 8: Long December Scarf by Craftopia Collective
Day 9: Men's Modern Crochet Headband by My Crochet Space
Day 10: F-Bomb Bowling Ball Bag by My Fingers Fly
Day 11: Stony Beanie by Regina P Designs
The rest of the blog hop is now on my co-host's blog – Sunflower Cottage Crochet! Click the button below to see today's featured pattern!
Want More Patterns for Men?
Grab my book, Crochet Makes for Men, which includes 12 amazing crochet patterns just for men!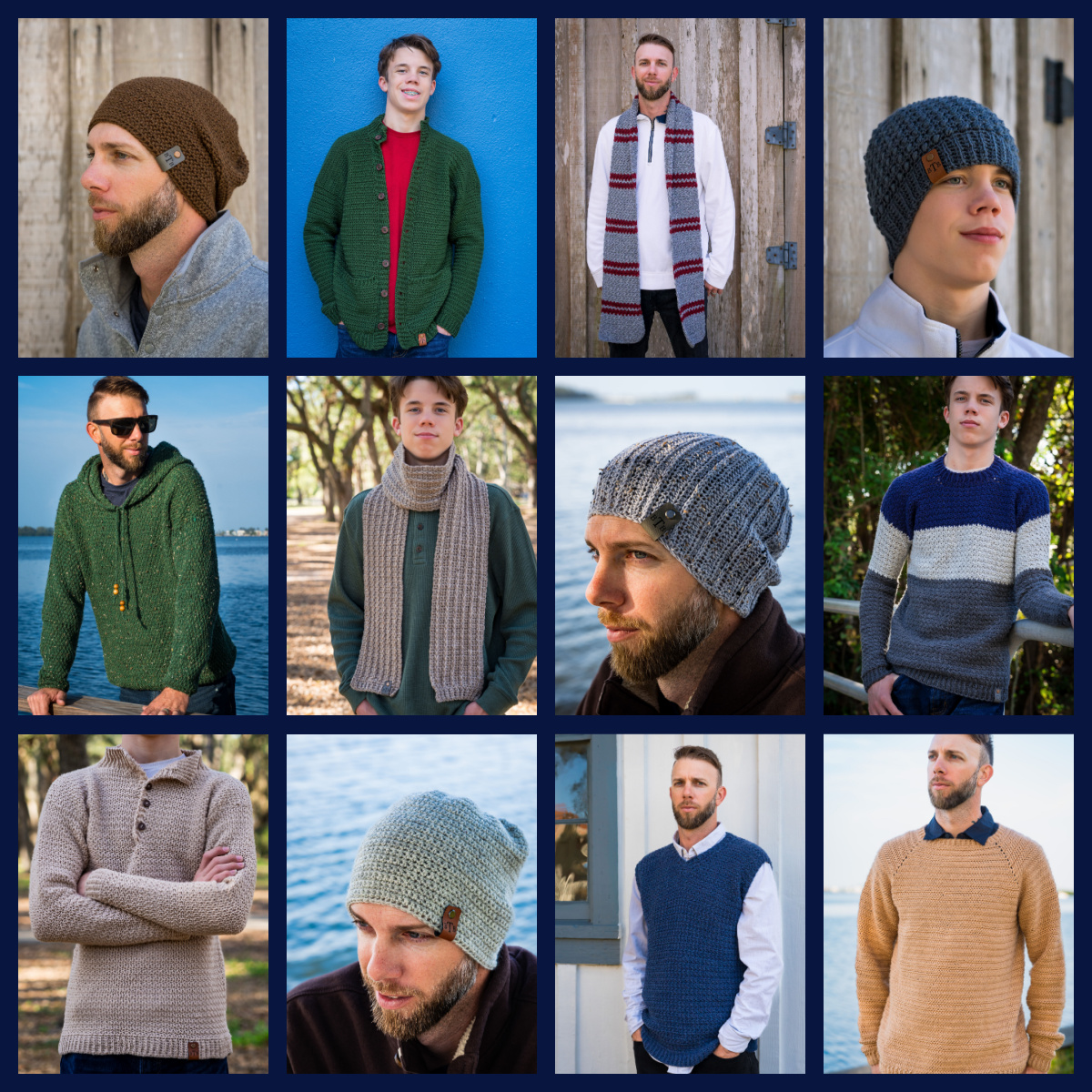 Michelle has been crocheting since 2011 and has been designing crochet patterns since 2014! She specializes in modern garments and accessories for your handmade wardrobe. Michelle has been featured in Happily Hooked Magazine, thehooknooklife.com, wecrochet.com, ourmakerlife.com, and several other websites. She is committed to providing the highest quality crochet information and patterns that instill a true feeling of pride, enjoyment, and accomplishment when completing a project.