Superwash Wool- Swish DK – Yarn Review
This post – Superwash Wool- Swish DK -Yarn Review – contains affiliate links. That means that if you make a purchase from those links I receive a small commission at no additional cost to you. Thank you for your continued support!
A special thanks to WeCrochet for providing this yarn!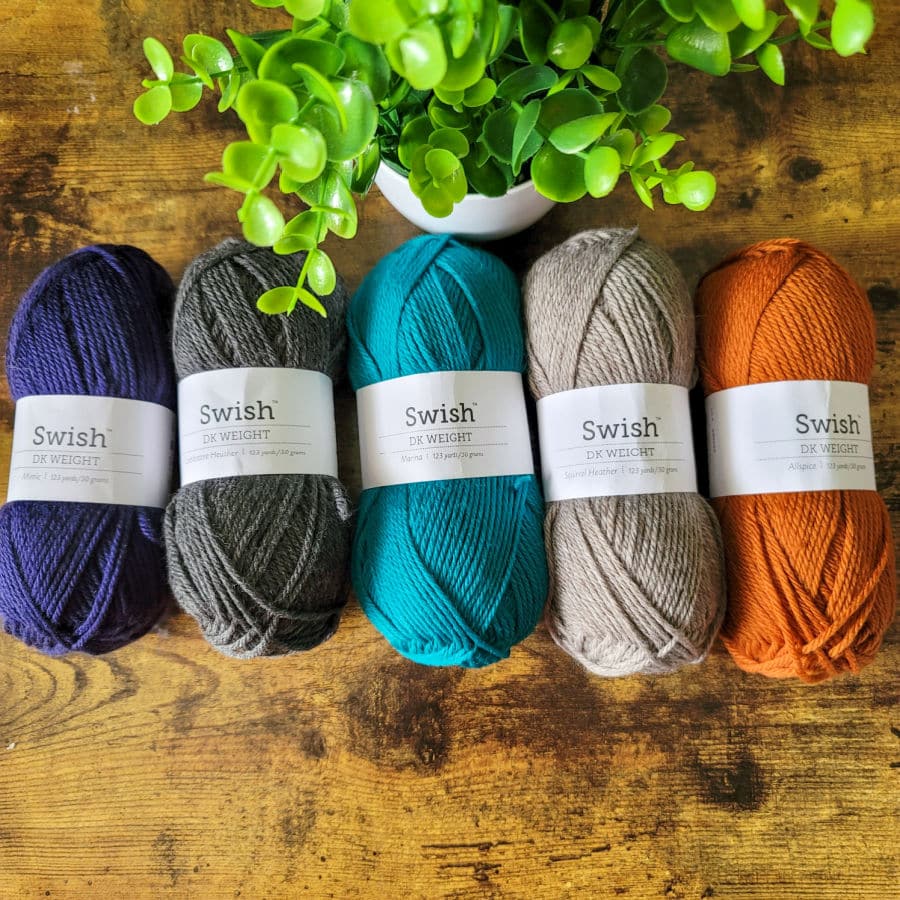 I have recently used Swish DK for two projects and want to share my honest thoughts about it.
Yarn Specs
Swish DK is a DK (#3) weight yarn.
It is 100% Superwash Merino Wool. It comes in a skein of 123 yards. It has 42 color options.
This yarn can be machine washed and dried. The website says to machine wash on cold and to tumble dry low. It says for best results to turn the item inside out and wash on cold in the delicate cycle.
The price point for this yarn is $5.99 per skein.
Initial Thoughts
This yarn is really soft. I mean REALLY soft. It is very easy to crochet with! There's no splitting or snagging with my crochet hook and it feels lovely.
I don't love that the price point is $5.99 each for just 123 yards. I wish there was a bit more yardage per skein. But this is a superwash merino wool so I don't expect it to be any lower a price than that.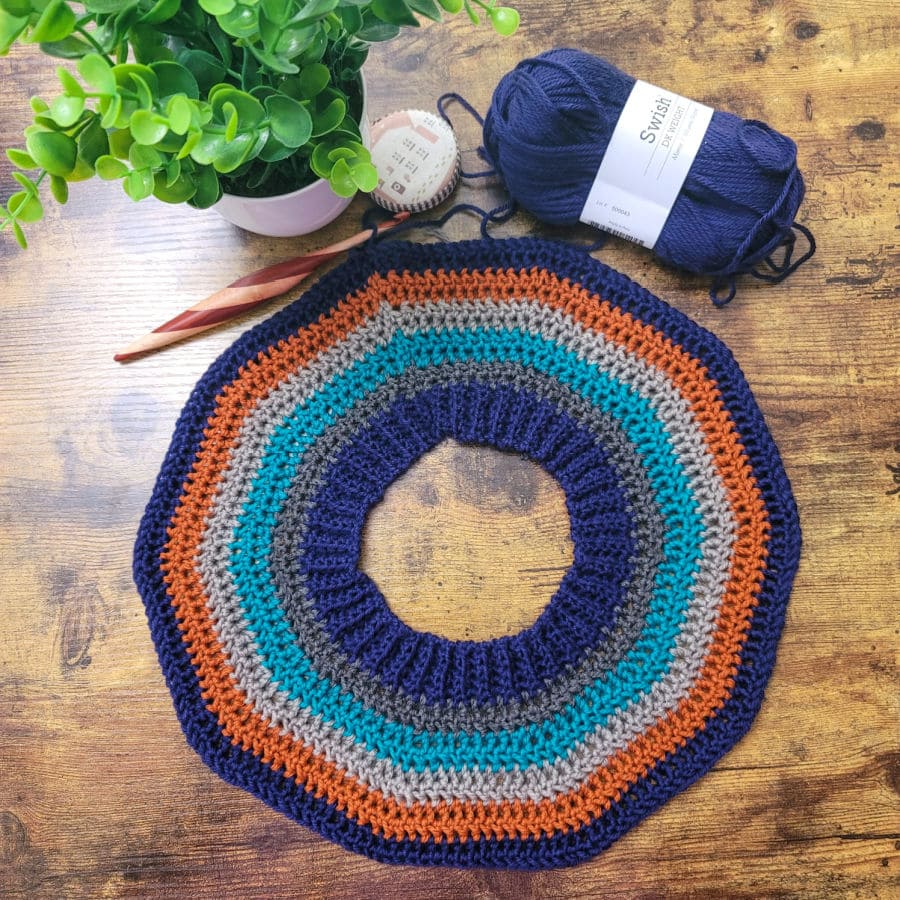 Washing the Yarn
So I washed my Vinnie Sweater, which is made with 5 different colors of Swish DK. I was a bit nervous about the colors bleeding onto each other or other items, so I washed it in the machine alone.
I washed it exactly as instructed. When I pulled it out of the washing machine I saw that the sweater had grown quite a bit. It was much longer than the original measurements! I was a little worried at this point.
But I threw it in the dryer and set it on low for 20 minutes. It was still a bit wet at 20 minutes so I set it for another 20 minutes. I check on it at about 8 minutes left to go and it was pretty much dry. And much to my surprise it shrunk back to just a bit shorter than the original length.
So I've gathered that this is something you've really got to keep an eye on and watch when washing and drying. If I would have kept the dryer running it may have shrunk even more. But at the same time I needed it to shrink up after washing because it had grown so much! The width measurement seemed to stay the same though, which I found very interesting.
Overall Rating
Overall, this is one of my favorite yarns! It is so soft and a true dream to work with! There are so many colors to choose from too! It is great for garments and very comfortable to wear.
I rate Swish DK yarn a 10 out of 10! I highly recommend you give it a try!
Projects for this Yarn
Here are some great projects made in Swish DK yarn or that would be lovely in this yarn!
Watch the Review
Purchase the Yarn
Head on over to WeCrochet to grab some skeins of this lovely yarn!
Pin It for Later!
Michelle has been crocheting since 2011 and has been designing crochet patterns since 2014! She specializes in modern garments and accessories for your handmade wardrobe. Michelle has been featured in Happily Hooked Magazine, thehooknooklife.com, wecrochet.com, ourmakerlife.com, and several other websites. She is committed to providing the highest quality crochet information and patterns that instill a true feeling of pride, enjoyment, and accomplishment when completing a project.