Crochet Tunic Pattern- Tuscan Sun Tunic
This post- Crochet Tunic Pattern – Tuscan Sun Tunic- may contain affiliate links, which means if you make a purchase from the links below, I will get a small percentage of the sales at no additional cost to you. Thank you for your continued support!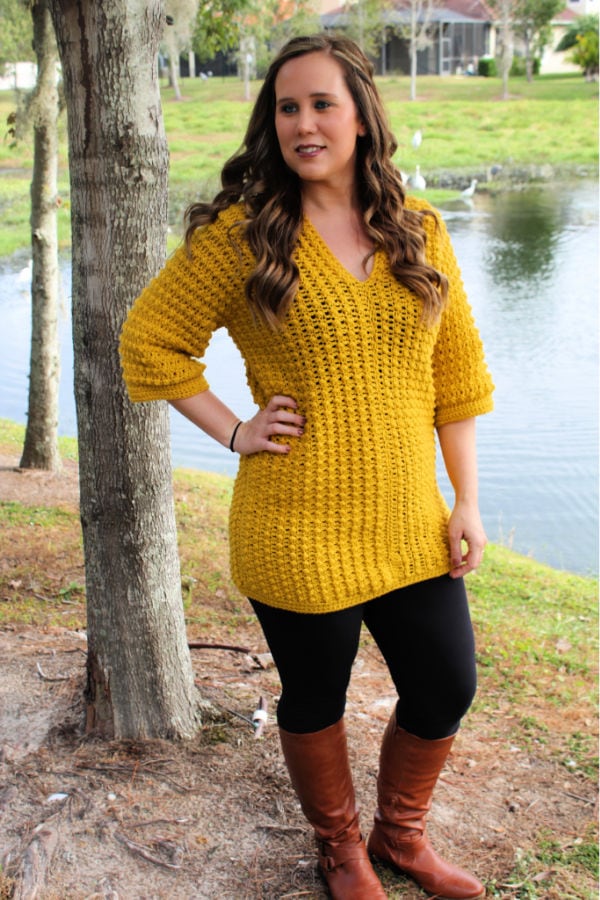 The Tuscan Sun Tunic crochet pattern is a simple side to side workup project that creates a beautiful, textured, v-neck garment!
Pattern Inspiration
This beautiful crochet tunic was inspired by the latest trends and fashions that I am loving! I don't know about you, but I love wearing long tunics with leggings and boots in the fall and winter.
I wanted to crochet a tunic that was long enough to wear with leggings. I also wanted it to be a v-neck with 3/4 length sleeves.
I decided on the texture of the garment by trying out different stitches combined, and decided on this combo.
Pattern Details
The tunic is made with DK (#3) weight yarn for a cozy, but lightweight feel! I used Stylecraft Special DK yarn in the color mustard for my sample sweater, pictured above.
I really love this yarn! It is a great DK (#3) yarn that comes in so many beautiful colors! This yarn is 100% acrylic and can be machine washed and dried.
For more tips on washing your tunic check out my tips on Caring for Your Crocheted Garments.
This tunic is long so you can wear it with leggings or jeans! I love to wear mine with my favorite leggings and boots!
It can be made shorter, and worn as a regular length sweater, by making the two panels shorter in length. You can also lengthen the sleeves to full length if you desire.
This pattern comes with instructions for children's sizes 2-10 and women's sizes XS-2X!
The crochet tunic is a side by side workup style.
It also includes step by step instructions on how to sew the panels together as well as a photo tutorial!
The pattern is very versatile and adjustable so you get the best fit for you! Be sure to check out my tips on Crocheting Garments!
This pattern is rated intermediate in pattern difficulty. It does require some sewing.
You can easily make adjustments to the length of the garment, as well as the length of the sleeves.
More Sweater Patterns
Where to Purchase
You can purchase this crochet pattern on Ravelry and Etsy!
Want to try before you buy? Check out my ever growing list of Free Crochet Patterns!
Pin It!
Michelle has been crocheting since 2011 and has been designing crochet patterns since 2014! She specializes in modern garments and accessories for your handmade wardrobe. Michelle has been featured in Happily Hooked Magazine, thehooknooklife.com, wecrochet.com, ourmakerlife.com, and several other websites. She is committed to providing the highest quality crochet information and patterns that instill a true feeling of pride, enjoyment, and accomplishment when completing a project.