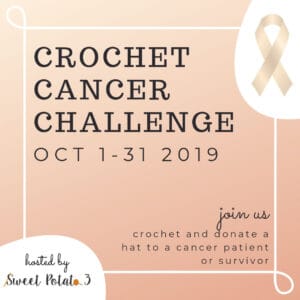 It is October, which means another Crochet Cancer Challenge hosted by Christine of Sweet Potato 3. This challenge runs through October 31st of each year. I am excited to contribute the Joey Hat for this year's challenge.
Be sure to check out the link for more details on the challenge and to make your pledge.
This year we were given the option to represent a type of cancer by working our hat in that cancer's ribbon color. I chose Cervical Cancer, which has a ribbon that is teal and white. Cervical Cancer is near to my heart because I once had a cervical cancer scare and have to get rechecked once a year, to ensure that there are no cancerous cells growing on my cervix.
I named this hat the Joey Hat in memory of Joey Feek, a country singer who passed away after a hard battle with cervical cancer. Her story and strength inspired me so much.
As part of the Crochet Cancer Challenge 2019 you can download the Joey Hat crochet pattern for free. However, if you download a copy of this pattern it is your pledge to make a hat and donate it to a local cancer center or patient. Use code CC2019 on Ravelry to get this pattern for free through Sunday, October 13. (This has now expired. See below for links to purchase this hat.)
To help spread the word about the Crochet Cancer Challenge we need you. When you make a hat for this challenge, please share it on social media and use the hashtag #CrochetCancerChallenge. Also, I'd love for you to tag me in your Joey Hat photos so I can see and share about this amazing challenge.
More links about the Cancer Challenge are below:
Cancer Challenge Introduction, what is it, click HERE.
What type of hat should I make, what sizes and where should I get the patterns, click HERE
What type of yarn is recommended for the hats, click HERE
Where should I donate my hats, click HERE
A fun "start early" project you can add to your hats, click HERE
Challenge others to join and more fun information, click HERE
You can purchase the Joey Hat crochet pattern on Ravelry and Etsy.
For more items to make and donate to charities or those in need check out my growing list of Free Crochet Patterns.
Michelle has been crocheting since 2011 and has been designing crochet patterns since 2014! She specializes in modern garments and accessories for your handmade wardrobe. Michelle has been featured in Happily Hooked Magazine, thehooknooklife.com, wecrochet.com, ourmakerlife.com, and several other websites. She is committed to providing the highest quality crochet information and patterns that instill a true feeling of pride, enjoyment, and accomplishment when completing a project.