Crochet Washcloth Free Pattern – Dallas Washcloth
This post- Crochet Washcloth Free Pattern – Dallas Washcloth – contains affiliate links. This means that if you make a purchase from those links I receive a commission at no additional cost to you. Thank you for your continued support.
I am so excited to share the second washcloth pattern in the Summer Washcloth Series! This one is the Dallas Washcloth, and uses the lovely tulip stitch! The Dallas Series also includes a blanket, a hat, and a scarf!
Do Crochet Washcloths Really Work?
You might be wondering if crochet washcloths are really useful and hold up well to a dirty pot in the sink or stuck on food. I'm here to tell you that if you use the right yarn, the answer is yes!
I use my crochet washcloths in the kitchen mostly. They are used to wash dishes, wipe counters, and clean up spills. They get washed in the washing machine and dried in the dryer. And they look good as new after all that!
When choosing a yarn for your crochet washcloth you want to go with a 100% cotton yarn. If the pattern calls for worsted weight, I highly recommend Dishie yarn from WeCrochet.
Dishie is both durable and absorbent, making it perfect for dish cloths…hence the name! It is machine washable and dryable. It comes in a huge variety of colors, perfect for matching the color scheme in your kitchen or bathroom!
One skein of Dishie is 190 yards, so you can get one oversized (10″ x 10″) washcloth out of one skein, sometimes two! The Dallas Washcloth is a little bit bigger (10.5″ x 10.5″) so you can only get one out of a skein. But you can probably get about 3 out of two skeins!
So yes, crochet washcloths really do work, but you need a good 100% cotton yarn and a great textured stitch to get the most out of it.
New eBook Now Available!
Get all 8 crochet washcloth patterns in the Summer Washcloth Series NOW in a beautifully formatted eBook! Get all 8 patterns before they are all even published here on the blog, and at a discounted price! Click the image below to head on over and grab your copy!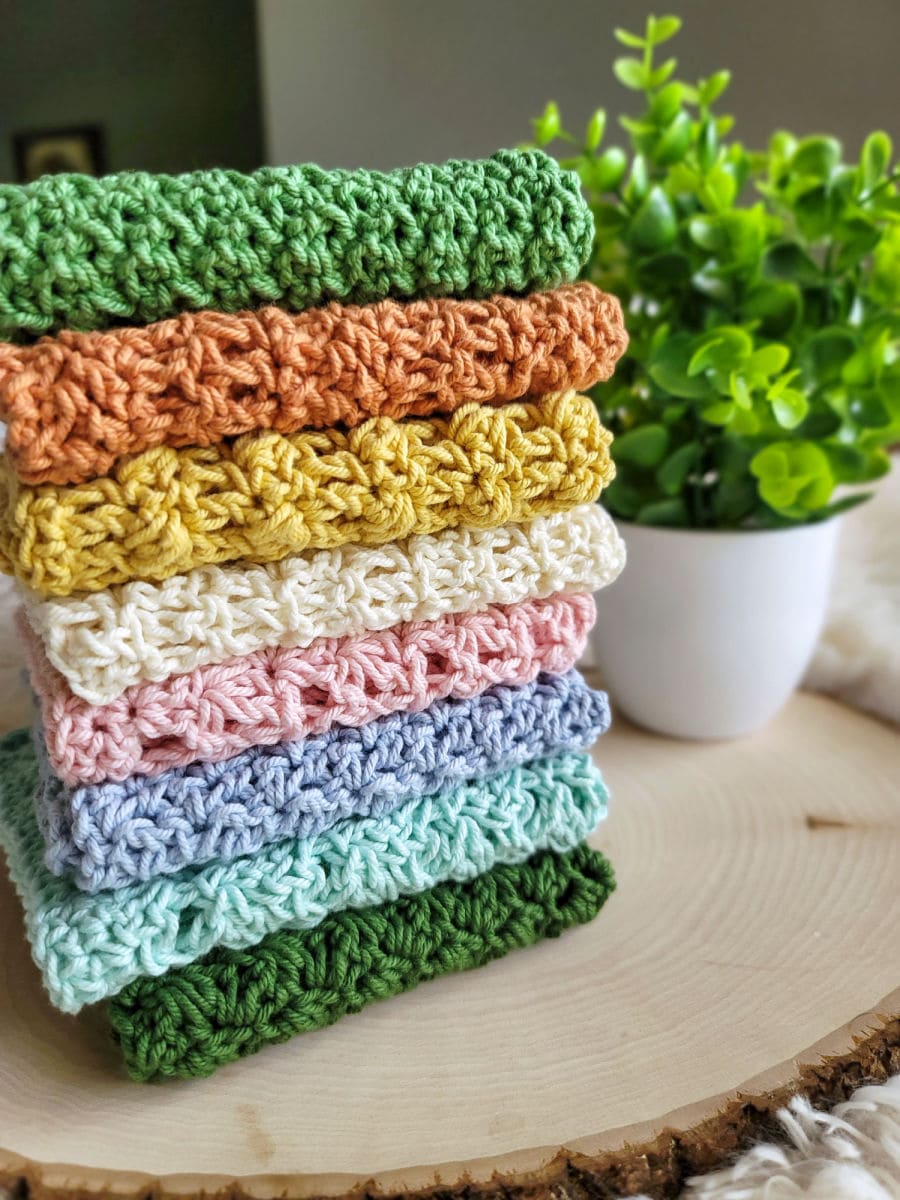 Now on to the pattern!
Dallas Washcloth Crochet Pattern
You can purchase the ad-free, printable pdf on Ravelry and Etsy!
Video Tutorial: https://youtu.be/mB_i6S0poD4
Materials
118 yards worsted weight (#4) cotton yarn –Shown here: Dishie Worsted in Mint(27041)
G (4.0mm) crochet hook
Scissors
Measuring Tape
Yarn needle
Difficulty
Easy
Gauge
4 blocks x 7 rows = 4″ within pattern
Stitches Needed & Abbreviations
st(s) – stitch(es)
ch(s) – chain(s)
sc – single crochet
dc – double crochet
** – repeat from
block – (sc, ch 3, 3dc) in same st.
Pattern Notes
Pattern is worked in rows with a sc trim worked in rounds around the entire washcloth.
Stitch combo is worked in a multiple of 4 + 5.
Pattern
Ch 41
Row 1: 3dc in 5th ch from hook, skip 3 chs, *(sc, ch 3, 3dc) in next ch, skip 3 chs*, repeat from * across to last ch, sc in last. (9 blocks)
Row 2: ch 4, turn, work 3 dc in 1st ch of ch 4, *(sc, ch 3, 3dc) around next ch-3 space*, repeat from * to last ch 3, sc in last ch-3 space. (9 blocks)
Rows 3-17: repeat row 2.
Trim
Round 1: ch 1, turn, work 1 sc in each dc and ch-3 space for 36 sts (skipping sc sts), work 36 sc down the side of the washcloth, work 36 sc across the bottom, and work 36 sc up the other side of the washcloth, join to 1st st. (144 sc)
Round 2: ch 1, turn, 1 sc in each st around, join to 1st st. (144 sc)
Fasten off. Weave in ends.
Did you enjoy the tulip stitch combo? Check out the other Dallas crochet patterns!
Pin It!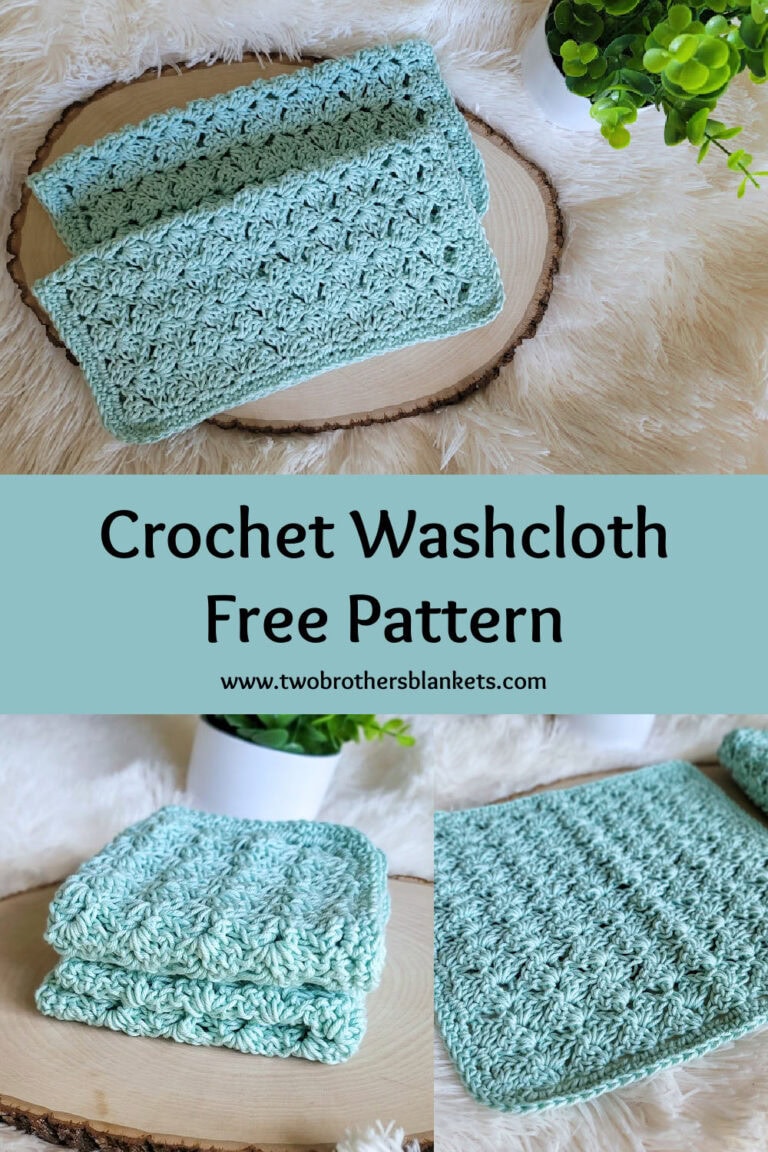 Michelle has been crocheting since 2011 and has been designing crochet patterns since 2014! She specializes in modern garments and accessories for your handmade wardrobe. Michelle has been featured in Happily Hooked Magazine, thehooknooklife.com, wecrochet.com, ourmakerlife.com, and several other websites. She is committed to providing the highest quality crochet information and patterns that instill a true feeling of pride, enjoyment, and accomplishment when completing a project.