Furls Streamline Crochet Hooks – My Honest Review
This post- Furls Streamline Crochet Hooks- My Honest Review– contains affiliate links, which means if you make a purchase from the links below, I will get a small percentage of the sales at no additional cost to you. Thank you for your continued support!
I'd like to preface by stating that this is not a sponsored post. Furls Crochet did not ask me to write this review. I reached out to them after using the Streamline hooks for a while and they have so graciously offered a discount code and product for me to give away! The views expressed in this post are my own and are my honest opinion on this product.
What is Furls?
Furls Fiberarts is a retailer of luxury crochet hooks and other fiber art products. They have a wide range of ergonomic, luxurious, and beautiful crochet hooks as well as things like yarn bowls, yarn, knitting needles, and more!
From the site, "We're thrilled to make this bold claim because we're the only company on the face of the earth- to our knowledge- that provides each an every customer with a custom concierge care service, a $500 hand-health guarantee, a lifetime warranty on all of our hooks, and hours of uncompromisingly meticulous artistry."
What are Furls Streamline Crochet Hooks?
The Furls Streamline crochet hooks are made of all wood, ergonomic, and lightweight. They are 7″ in length, making them on the longer side compared to most crochet hooks.
Furls Streamline Crochet Hooks come in 3 beautiful woods – Camwood, Teak, and Ebony.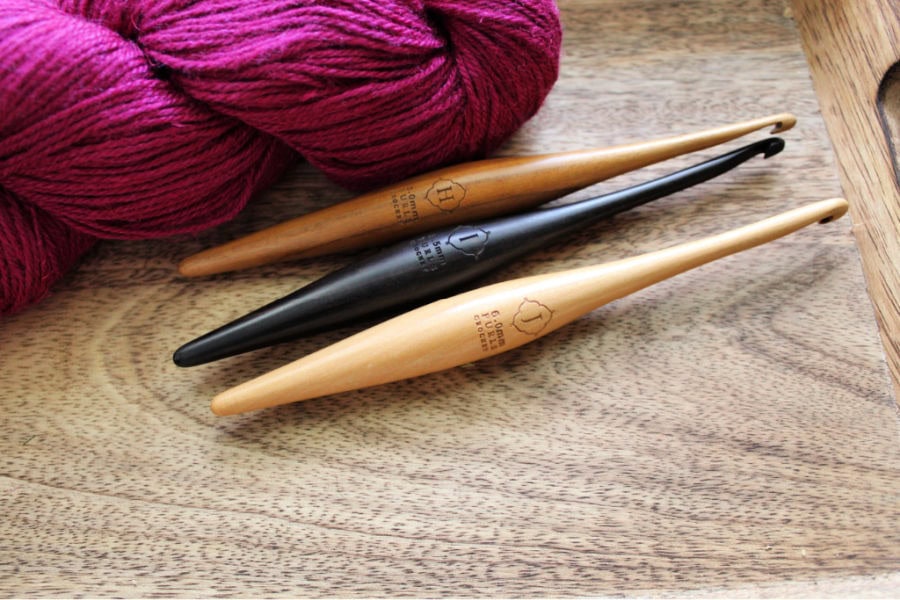 There is also the Furls Streamline Swirl Crochet Hooks! These are the same shape and length as the wooden Streamlines, but are made of polished, nonporous resin. They come in a beautiful variety of colors!
The Furls Streamline Crochet Hooks range in price from $16-$20 and the Furls Streamline Swirls are $22.
Why I Made the Switch to Streamlines
I've been crocheting for 9 years nearly every day since the day I learned. I started my crochet business 7 years ago and now crochet is my career. I crochet a lot!
Over the past year or two, I started to have pain in my left hand, wrist, arm, and shoulder. This is the hand I crochet with.
The pain would range from a small ache in the knuckle of my thumb to a burning sensation in my shoulder. After many visits to the chiropractor and my own doctor, I've been diagnosed with tendinitis in my left shoulder. This is a direct result of the long hours of repetitive movement I do when I crochet.
When the pain started to become persistent and I had to stop crocheting for longer and longer periods of time, I decided to try a new crochet hook. I needed something that I wouldn't have to grip as tightly as I worked my stitches.
I had one furls streamline crochet hook already that I had not really used much so I decided to give it another try. The relief was almost instant!
What I Love About Furls Streamline Crochet Hooks
My first Furls Streamline hook was the Ebony wood in a 5.00mm (H) size. The longer length was one of the first things that stood out to me. That helps a lot when crocheting because there's no edges poking you on the other side of you hand.
I also really love how lightweight the hook is. Because it is so lightweight I don't have to grip it very hard and it just sort of glides through the yarn. With other hooks I had such a tight grip that the knuckle of my thumb would just constantly ache. These hooks being so lightweight gives much relief to my fingers and wrist.
The Furls Streamline Swirls weigh slightly more than the wooden ones. I only have one of these hooks, and haven't used it much, but I have compared the weight. It is definitely heavier, but still not as heavy as some of the other crochet hooks I have used in the past. I would still consider it a very lightweight hook.
Did My Pain Go Away?
I am so happy to say that after using the Furls Streamline crochet hooks for over 2 months now, I haven't had any finger, wrist, or arm pain!
My shoulder still bothers me from time to time, but tendinitis is something that can take months to heal and can easily return. But I am able to crochet again, after having to take a few weeks off to heal, partly because of these wonderful hooks!
The Furls Streamline crochet hooks help so that when I am crocheting I don't have to do as much work, taking a ton of the pressure off of my shoulder as well!
In the past two months I have grown my streamline collection to 9 hooks! I wanted to have one in every size hook that I use regularly because I never want to have to use another crochet hook again! These hooks have literally made it possible for me to crochet again and for that I am so thankful!
Where to Purchase
You can purchase the Furls Streamline crochet hooks, as well as the Furls Streamline Swirls on the Furls Crochet Website.
Use coupon code twobrothers15 at checkout for 15% off your entire purchase!
Givewaway!
Furls Crochet has so graciously offered a Streamline crochet hook in wood of choice (from in stock) to one of my lucky readers! And I'm going to offer a $25 gift card to Furls Crochet to one more winner! So you have 2 chances to win! Just fill out the form below!
a Rafflecopter giveaway
Pin It!
Michelle has been crocheting since 2011 and has been designing crochet patterns since 2014! She specializes in modern garments and accessories for your handmade wardrobe. Michelle has been featured in Happily Hooked Magazine, thehooknooklife.com, wecrochet.com, ourmakerlife.com, and several other websites. She is committed to providing the highest quality crochet information and patterns that instill a true feeling of pride, enjoyment, and accomplishment when completing a project.