How to Block Crochet Tops and Sweaters
This post- How to Block Crochet Tops and Sweaters – contains affiliate links, which means if you make a purchase from the links below, I will get a small percentage of the sales at no additional cost to you. Thank you for your continued support!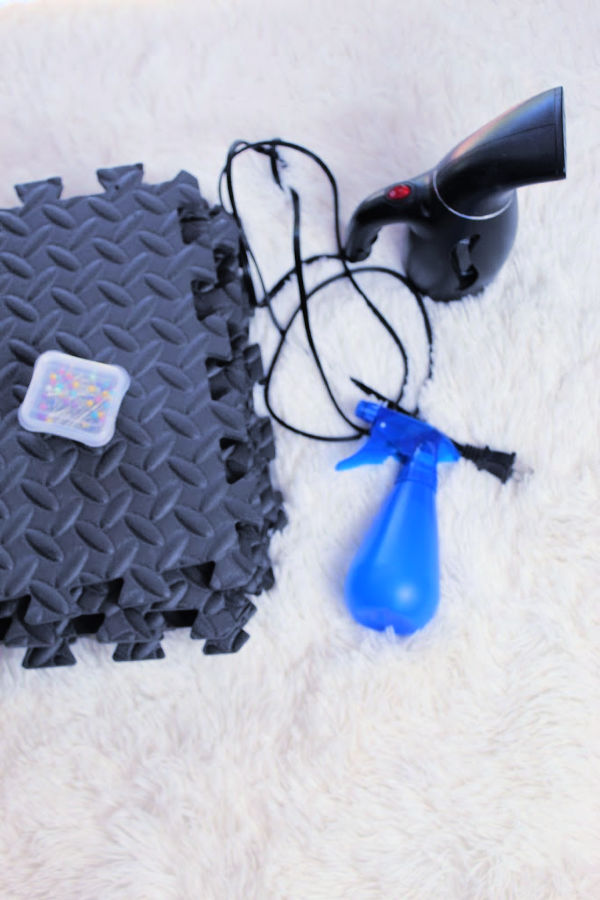 Blocking crochet projects is something I didn't really understand until I started designing my own crochet patterns. I wasn't sure why my crochet projects needed to be blocked. And I didn't know how to block a crochet sweater, so it just felt like an added, unnecessary step.
But then, I gave it a try and was so amazed by the results! Now I block nearly all of my projects!
Today I'm going to share with you the benefits of blocking your crochet patterns, especially your crochet garments, and explain to you how to do it!
What does blocking crochet mean?
Blocking uses water or steam to shape your crochet project, help it to lay flat and not curl, and open up the stitches.
If you've ever had a project that didn't quite sit right or curled over itself, blocking can fix that problem.
Benefits of blocking your crochet projects
You may be wondering why block crochet? Especially if the project isn't curling or anything like that.
For many projects, such as shawls, wraps, and blankets that is exactly why you block it. Just to keep it in the correct shape and laying flat. But for projects like garments, it has a number of benefits.
Blocking can add length and width to your garment. Ever made a sweater that is just a bit too snug? Blocking out the sweater can help a lot. My most recent crochet top design, the Leilani Raglan Tee, wet blocked out 2″ wider than it was measuring before blocking!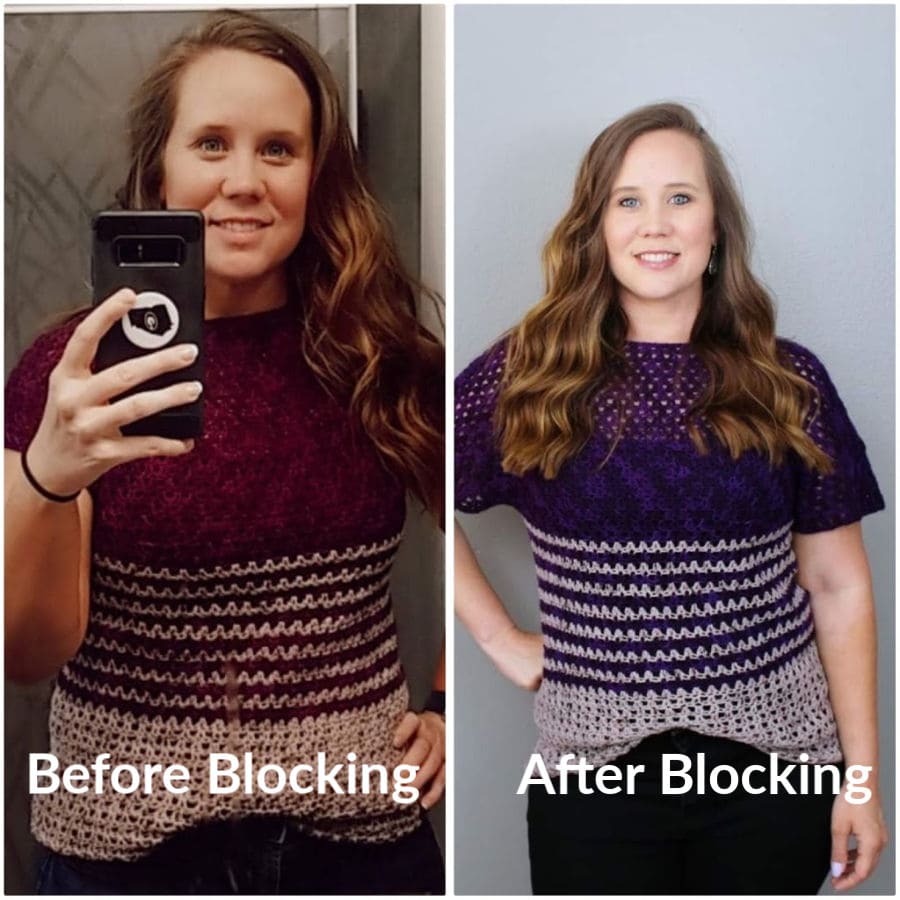 Blocking a garment gives it a more fabric feel and provides a nice flow and drape. Blocking loosens up your stitches a bit, giving the project a more flowy look and feel to it. This is great for lacy projects or any project with tight stitches.
One other benefit to blocking is that it can sometimes fix minor mistakes within your project. Have you ever had to make two panels for a project and found that one was slightly shorter? Blocking the panel that is shorter can bring it out to the correct size that it needs to be.
Ways to Block a Garment
There are three main ways to block your project. Each way can produce different effects, so it's important to know what your end goal is before blocking.
If you're new to blocking and need to purchase the supplies, this Blocking Starter Took Kit from WeCrochet is a great deal on what you will need. You can find a steamer at a store like Target and I've linked one from Amazon below. Spray bottles can also be found at most stores.
Steam blocking
This method of blocking can be done using just a handheld steamer or an iron. I use a small hand held travel steamer when I steam block. This process usually loosens up the stitches a bit, and offers a bit of drape and growth.
Pin your garment to a blocking mat. You can also hang it from a hanger if you are just doing a light steam over it.
Heat up your steamer and hold it about 1-2″ away from your garment. Do not touch the steamer to the garment. Do not hold it in one place too long. Go up and down the garment in a slow, steady motion.
Let garment cool completely and then take off the mat or hanger.
Wet Blocking
This method of blocking is done by completely submerging the garment into water for a short period of time. Then after squeezing the excess water out (never wring it out), pinning it to some blocking mats to dry. This process usually provides the most growth of the garment and gives it the most drape. While I love the results of wet blocking, it can also sometimes give too much growth. More on that soon.
To start, wet your garment in a sink, tub, or bucket of cool water. Let it soak for at least 10 minutes.
Then, take the garment out of the water and squeeze the water out. Do not wring or twist the water out. Just squeeze gently.
Lay the garment on a towel and roll the towel up with the garment inside to get out any extra moisture.
Pin wet garment to blocking mat in the shape and size you want it. Let dry, usually 8-12 hours.
Spray Blocking
Probably the safest method of blocking when it comes to the size or growth of a garment.
Pin the dry garment to a blocking mat in the shape and size you want it.
Use a spray bottle of cool water to saturate the garment.
Let dry, usually 8-12 hours.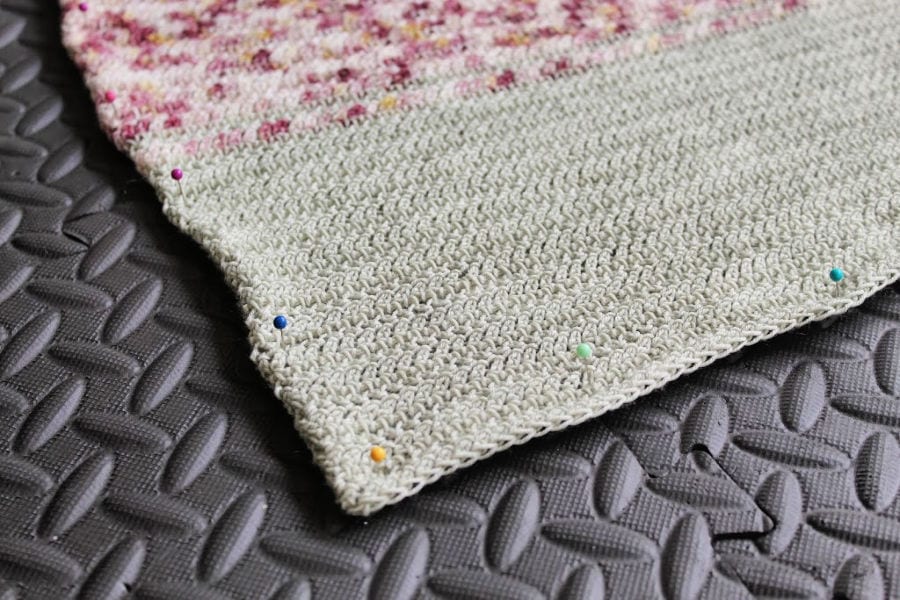 How to Know Which Blocking Method to Choose
Choosing which way to block your garment project takes a bit of thought. First, decide what the goal of blocking is. Do you want more drape? Ends flat? Do you need to add length and width?
If you are just looking for some drape and a little bit of growth, steam blocking will do the trick.
If you want some real drape and growth, wet blocking is your best bet.
For somewhere in between or to lay your edges flat, spray blocking is a good choice.
Also, the fiber content of your yarn will need to be considered when choosing a blocking method. For fibers like wool, wet blocking works well for adding growth and drape. Superwash wool is known to really grow after being soaked so keep that in mind.
Acrylic and acrylic blends can be steam blocked but do not put the steamer too close or you will "kill" the yarn. That means you will loose all stitch definition and it will have an almost melted look to it.
Blends and very delicate fibers like silk usually do best with the spray blocking method. This is also the safest choice if you are unsure and don't want a dramatic change.
Whether or not you need to block your garment every time you wash it will also depend on the fiber. Be sure to lay the garment flat to dry and if it looks like it needs some re-shaping then pin it to your blocking mats to dry in the shape you want it to be. For more information on washing your garments, check out my post on How to Care for Your Crocheted Garments.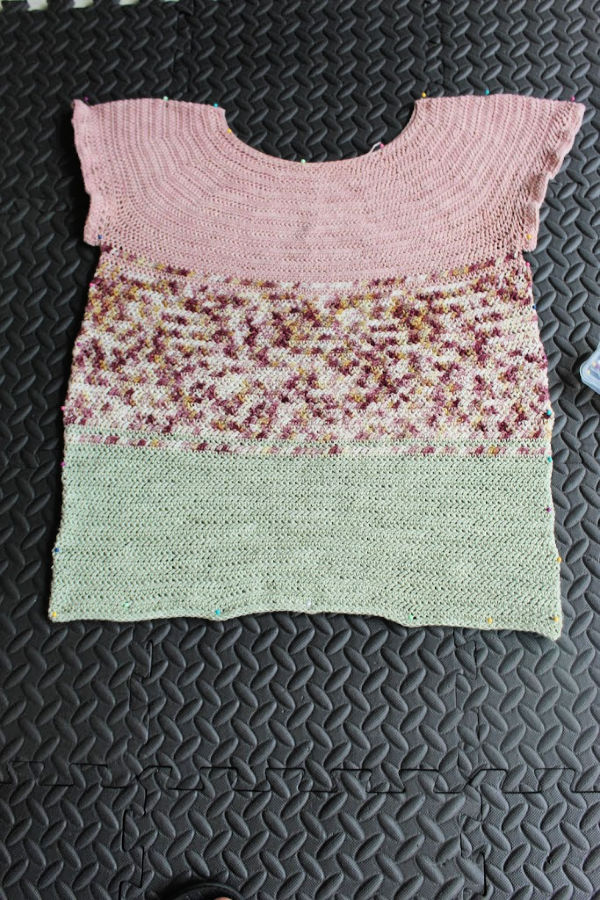 I hope this post helps you understand blocking and how and when you need to do it. Please feel free to comment below with any questions or other tips you may have.
Pin it for Later!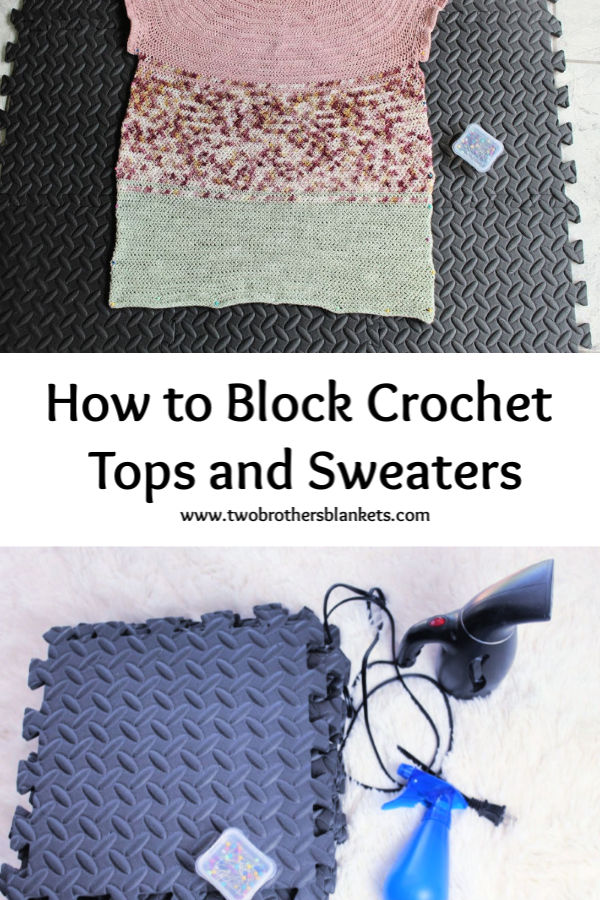 Michelle has been crocheting since 2011 and has been designing crochet patterns since 2014! She specializes in modern garments and accessories for your handmade wardrobe. Michelle has been featured in Happily Hooked Magazine, thehooknooklife.com, wecrochet.com, ourmakerlife.com, and several other websites. She is committed to providing the highest quality crochet information and patterns that instill a true feeling of pride, enjoyment, and accomplishment when completing a project.