Crochet Prayer Shawl Pattern – Mighty Waves Prayer Shawl
This post- Mighty Waves Prayer Shawl- contains affiliate links, which means if you make a purchase from the links below, I will get a small percentage of the sales at no additional cost to you. Thank you for your continued support!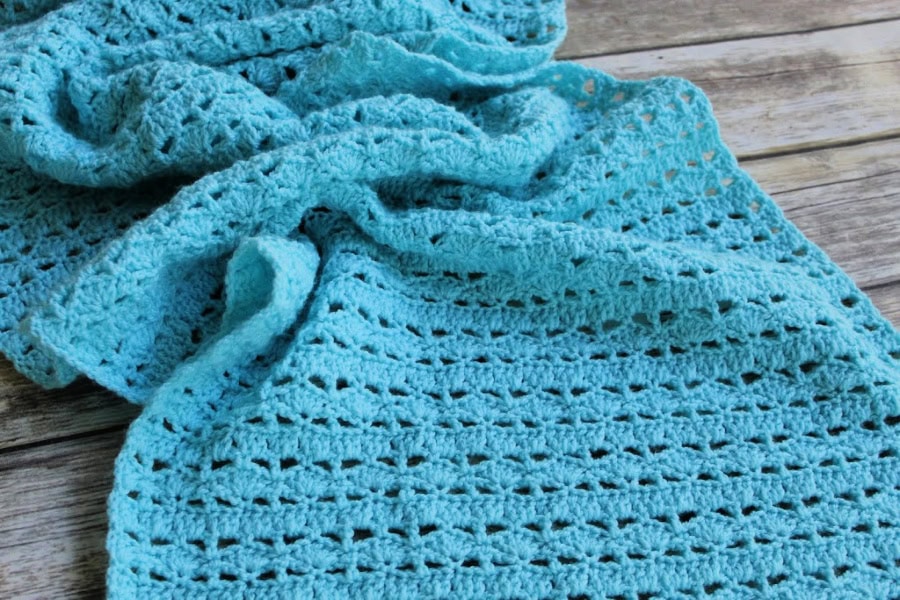 The Mighty Waves Prayer Shawl crochet pattern is a beautiful rectangular wrap that can be made while simultaneously praying for someone, or can be given to someone in need of encouragement or comfort.
The name Mighty Waves comes from the Bible in Psalm 93.
" The Lord on high is mightier than the noise of many waters, yea, than the mighty waves of the sea." – Psalm 93:4.
A prayer shawl is a great way to let someone know you are thinking about them and praying for them. It is like wrapping someone in a hug of encouragement and prayer.
This crochet shawl also makes a beautiful accessory to wear over nearly any outfit!
Pattern Details
The Mighty Waves Prayer Shawl is rectangular in shape, measuring approximately 70″ x 20″.
This shawl crochet pattern calls for DK (#3) weight yarn. I've used a number of different yarns for this project, but most recently used Paintbox Yarns Simply DK.
I love Paintbox Yarns so much! They are 100% premium acrylic yarns with so many beautiful colors to choose from. It is a very affordable yarn also, which you can purchase exclusively on LoveCrafts, a website that sells both yarn, patterns, and craft supplies!
You will need approximately 900-1000 yards of yarn for this shawl pattern.
The pattern is rated Easy in difficulty. You will just need to know basic crochet stitches for this one!
More Shawl Crochet Patterns
Cherry Blossom Shawl – a beautiful triangle shawl using hand dyed fingering (#1) weight yarn!
Sweet Tea Shawl – another triangle shawl that you will love to make, using sport weight (#2) yarn!
Sydney Shawl – this shawl is asymmetrical in shape and also uses DK (#3) weight yarn!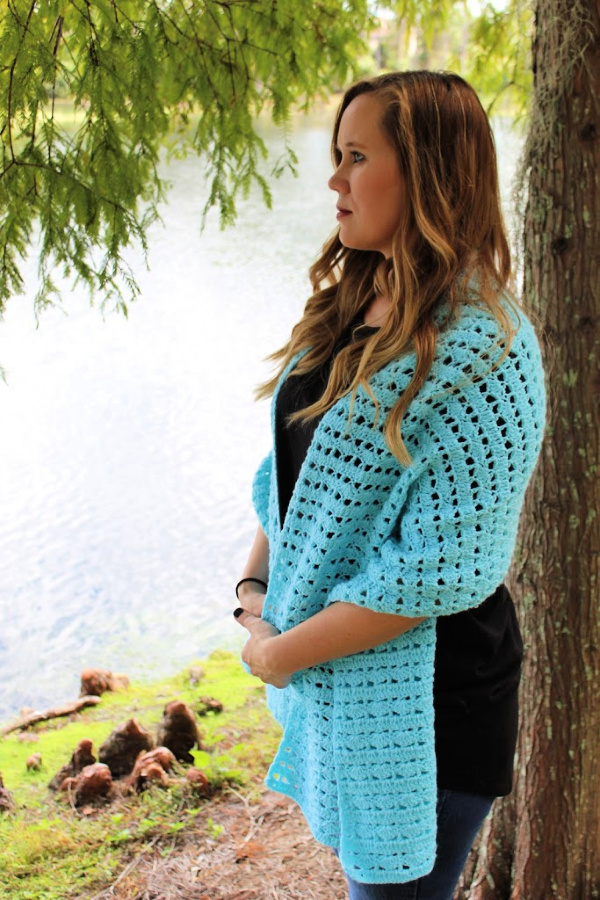 Where to Purchase
You can purchase the Mighty Waves Prayer Shawl crochet pattern on Ravelry, Etsy, and LoveCrafts!
Want to try before you buy? Check out my growing list of Free Crochet Patterns!
Pin it for Later
Michelle has been crocheting since 2011 and has been designing crochet patterns since 2014! She specializes in modern garments and accessories for your handmade wardrobe. Michelle has been featured in Happily Hooked Magazine, thehooknooklife.com, wecrochet.com, ourmakerlife.com, and several other websites. She is committed to providing the highest quality crochet information and patterns that instill a true feeling of pride, enjoyment, and accomplishment when completing a project.