Fair Isle Crochet Hat Pattern- Illusion Hat
This post – Fair Isle Crochet Hat Pattern- Illusion Hat- contains affiliate links, which means if you make a purchase from the links below, I will get a small percentage of the sales at no additional cost to you. Thank you for your continued support!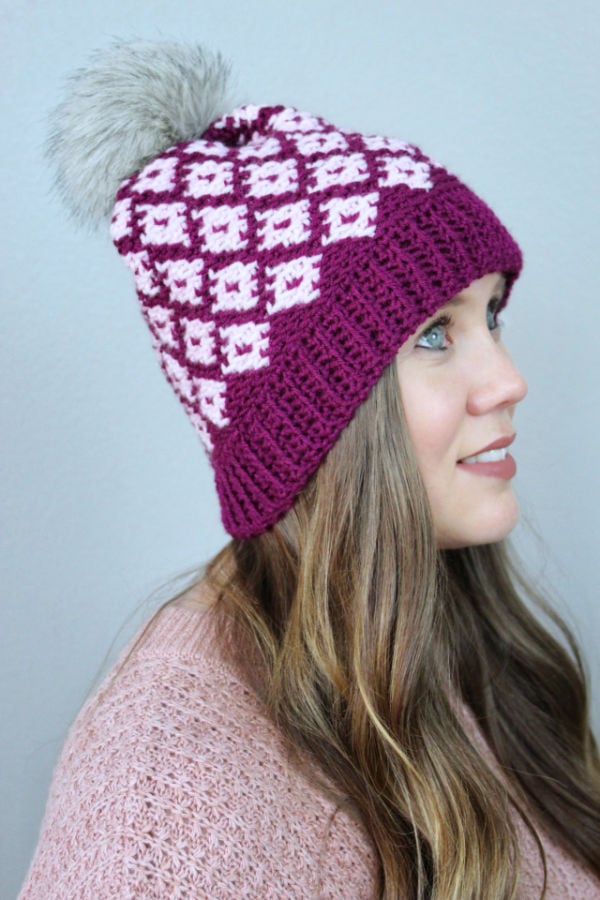 The Illusion Hat is another design using fair isle crochet technique. I call this the Illusion Hat because sometimes you see the contrasting color diamonds and sometimes you see the main color diamonds created in between!
Pattern Inspiration
I love using the fair isle crochet technique to make hats and beanies and other designs! My son wanted a fair isle crochet hat like some of my other designs, so I created this new one. Then of course I had to make one for myself!!
I love how simple this design is with the alternating diamonds and how the main color creates a diamond shape too, around the contrasting color. It's a great hat for using lots of your favorite color combinations.
Which pops out at your first? The contrasting color or the small, skinny diamonds in the main color?
Pattern Details
The Illusion Hat is made using at least 2 colors of worsted weight (#4) yarn. I used WeCrochet Brava Worsted in the colorways Fairy Tale and Blush.
Brava Worsted is one of my go-to yarns! It is 100% acrylic and SO soft! It comes in a huge variety of colors and is very affordable!
This crochet beanie is worked from the bottom up, starting with the brim. You will then work along the side of the brim to create the body of the hat.
The colors are categorized into main color and contrasting color.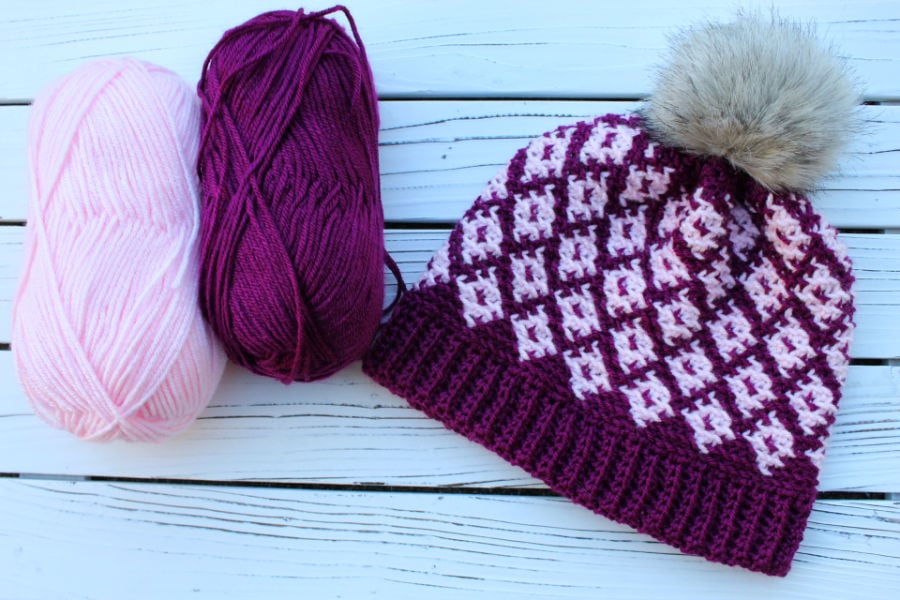 This pattern is rated Easy in pattern difficulty. You will just use single crochet and single crochet 2 together throughout the entire hat. The Fair Isle Crochet technique is quite simple to learn.
The pattern comes with written instructions, a link to a video tutorial, photo tutorials, and a chart to follow. So even if you've never tried this technique before, the pattern will help you learn it!
The Illusion Hat crochet pattern comes in 6 sizes ranging from infant to adult. You will need between 50 and 150 yards of yarn, depending on what size you make.
Where to Purchase
You can purchase the Illusion Hat crochet pattern on Ravelry and Etsy!
Want to try before you buy? Check out my ever growing list of Free Crochet Patterns!
Pin It!
More Fair Isle Crochet Patterns
Michelle has been crocheting since 2011 and has been designing crochet patterns since 2014! She specializes in modern garments and accessories for your handmade wardrobe. Michelle has been featured in Happily Hooked Magazine, thehooknooklife.com, wecrochet.com, ourmakerlife.com, and several other websites. She is committed to providing the highest quality crochet information and patterns that instill a true feeling of pride, enjoyment, and accomplishment when completing a project.