Easy Crochet Sweater Pattern – Spring Breeze Sweater Blouse
This post- Easy Crochet Sweater Pattern- Spring Breeze Sweater Blouse- contains affiliate links. This means that if you make a purchase from those links I receive a small commission at no additional cost to you. Thank you for your continued support!
Special thanks to WeCrochet for providing the yarn for this sweater!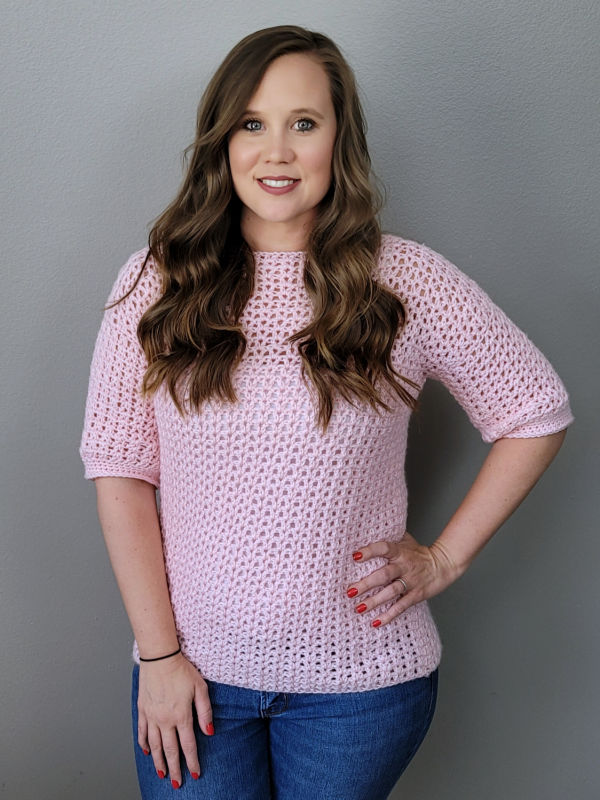 The Spring Breeze Sweater is the perfect transitional top for the changing seasons! The open stitches and elbow length sleeves make it a great sweater for spring and fall! This easy crochet sweater is so fun to make and wear! You could even make it over sized and use it as a layering top over your outfit!
Pattern Inspiration
Believe it or not, this easy crochet sweater was my very first garment pattern! The workup has evolved somewhat since the beginning, but it is still one of my absolute favorites!
I had only been crocheting for about 2 years and saw a top in a magazine that was slightly oversized and lacy and decided I was ready to try to crochet a sweater! I used the simple v-stitch to create panels and then added sleeves and trim at the end. It turned out just like I pictured it!
I was so proud of myself that I shared it with some fellow crocheters and they encouraged me to write up the pattern and have it tested. So I did. When I realized that others could make the same thing from my instructions I was thrilled! So I put the pattern for sale on Ravelry and the rest is history!
This sweater really began my love for crochet garments! And I still love it to this day!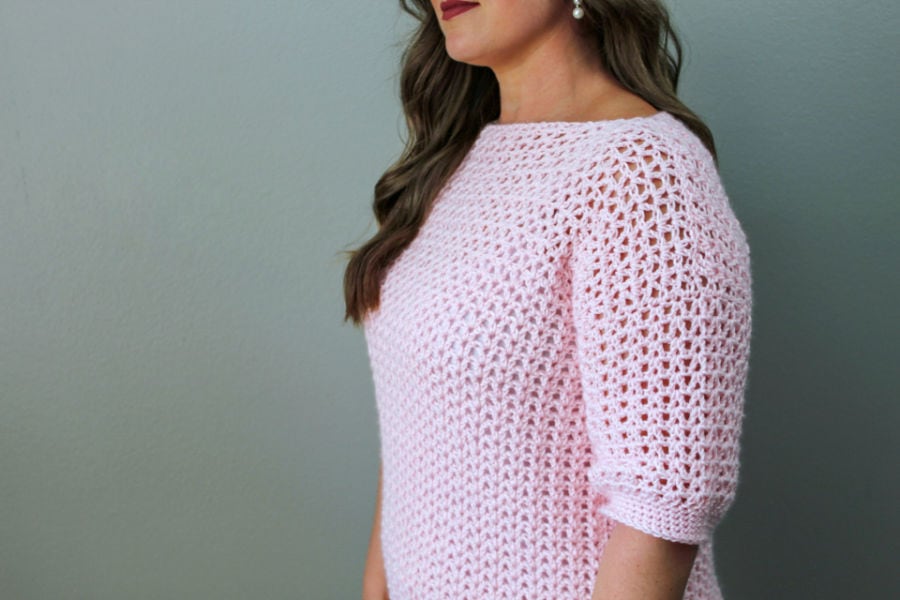 As I have learned more about pattern grading, sizing, and garments in general I have updated the pattern to be worked in the round. It still uses the very simple v-stitch throughout with a single crochet trim.
Pattern Details
The Spring Breeze Sweater is made using worsted weight (#4) yarn. I used WeCrochet Mighty Stitch Yarn in the colorway Blush for my newest sweater.
Mighty Stitch is such a nice yarn. It is 80% acrylic and 20% superwash wool. This yarn is so soft! It is really nice to work with and wear! With 32 beautiful colors choices, you're bound to find one you love!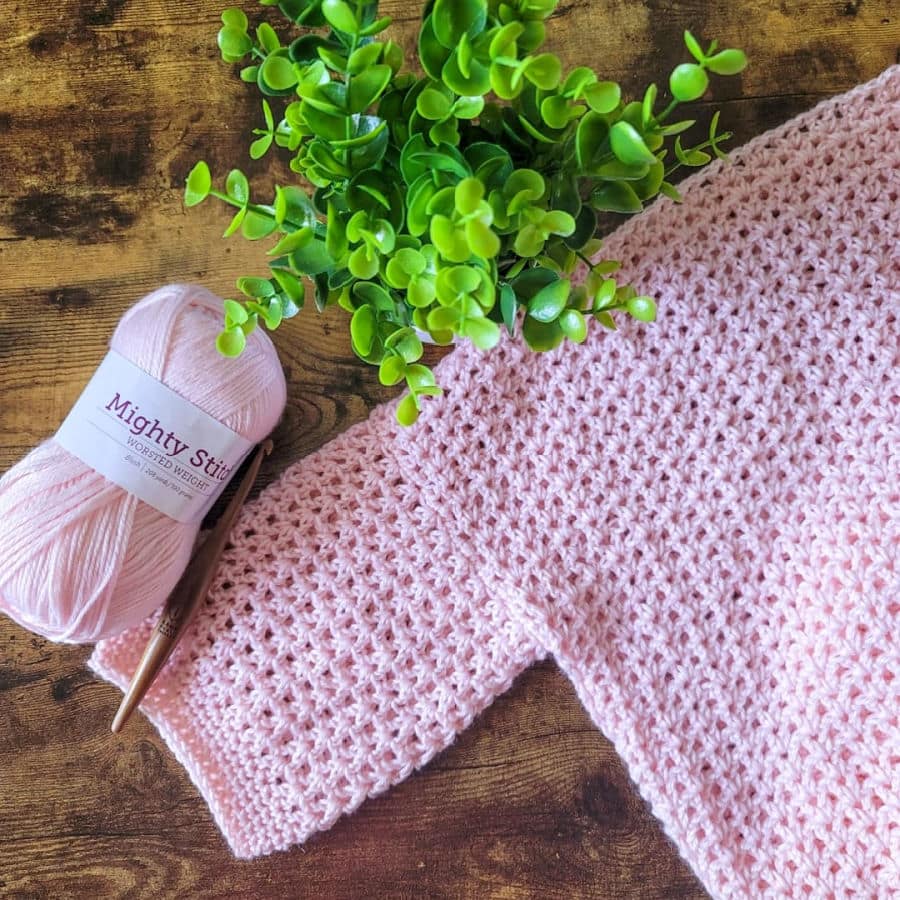 Be sure to check out my post on Caring for you Crocheted Garments for more details on washing your sweater.
The sweater is worked from the bottom up in the round, with sleeves and trim added at the end.
This crochet pattern comes with instructions for women's sizes XS to 3X. It has 2″ of positive ease.
It is rated Easy in pattern difficulty. The stitch is a very simple v-stitch with a trim of single crochet stitches. I highly recommend the Ultimate Guide to Crocheting Garments email series if you're new to crocheting garments!
This garment is easy to adjust and customize to your preferences.
More Sweater Patterns
Springtime Sweater – another beautiful and simple transitional garment!
September Sweater – this simple v-neck sweater has vertical stitching and can easily be adjusted. Great for any time of year!
Remi Raglan Sweater– a raglan style sweater that has long sleeves, but uses a lightweight yarn. It is great for fall and winter!
Layla Tunic – this long tunic style sweater also has elbow length sleeves and is perfect for spring!
Where to Purchase
You can purchase the Spring Breeze Sweater crochet pattern on Ravelry and Etsy!
Want to try before you buy? Check out my growing list of Free Crochet Patterns!
Pin it for Later: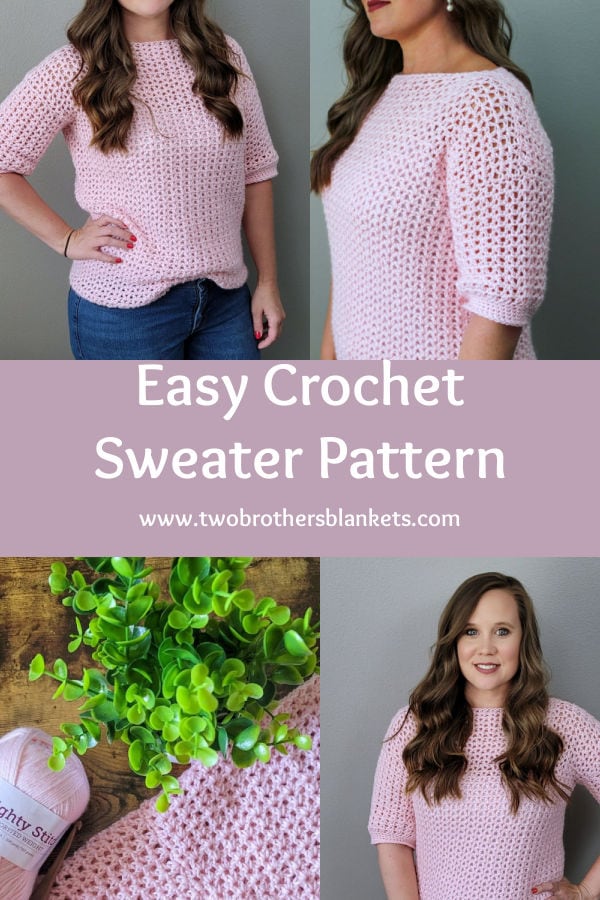 Michelle has been crocheting since 2011 and has been designing crochet patterns since 2014! She specializes in modern garments and accessories for your handmade wardrobe. Michelle has been featured in Happily Hooked Magazine, thehooknooklife.com, wecrochet.com, ourmakerlife.com, and several other websites. She is committed to providing the highest quality crochet information and patterns that instill a true feeling of pride, enjoyment, and accomplishment when completing a project.