How to Care for your Crocheted Garments
This post- How to Care for your Crocheted Garments- contains affiliate links, which means if you make a purchase from the links below, I will get a small percentage of the sales at no additional cost to you. Thank you for your continued support!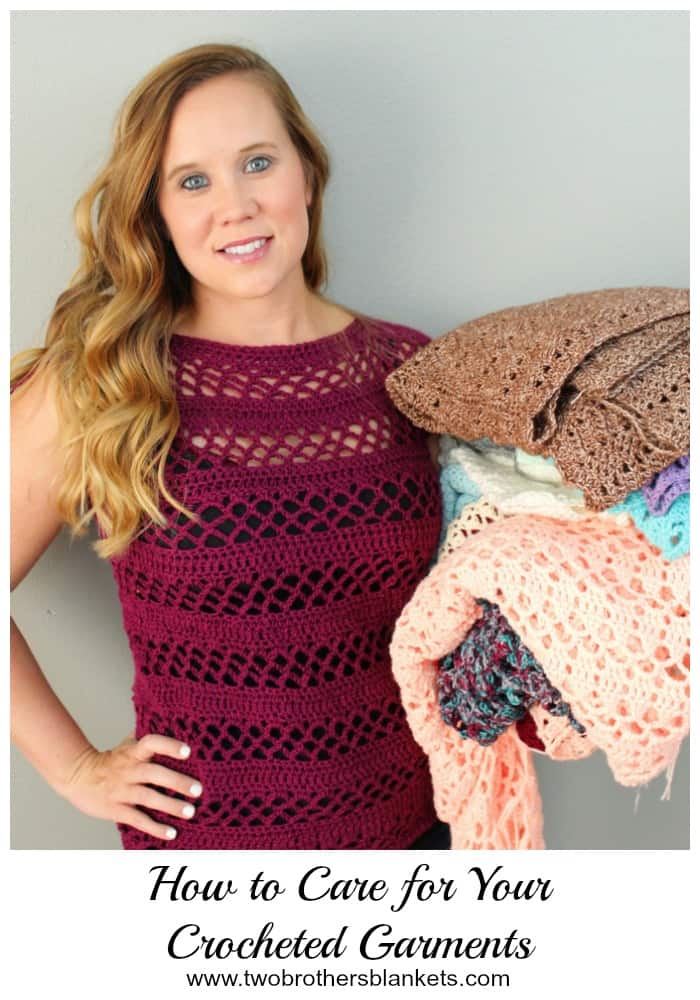 Have you ever wondered how to care for your crocheted garments? I've shared my best tips for crocheting garments but what about when you are finished with it?
When you crochet a garment you've accomplished something you should be proud of! You want this garment that you've crocheted to last and to keep it's shape and look great on you every time you wear it!
So how do you do that? It's not as hard as it seems to keep your crocheted garments nice! Below are my best tips for taking care of your crocheted garments so they look great and last!
Choose your yarn wisely.
Sometimes the best work is your prep work. Before you begin your garment project, make sure you are choosing a yarn that will work well for that garment.
If you want something that is sturdy and will hold it's shape, then choose something like an acrylic yarn or a thicker weight yarn.
If you want something that is lightweight and flowy, choose a fingering or sport weight yarn.
Also, check the washing instructions of the yarn. Do you need to hand wash it or can it be washed in the machine? Does it pill? You can even work up a swatch and wash it to see how it looks and feels after washing.
When in doubt, hand wash.
Let's face it, hand washing is not going to be as hard on the crocheted garments as machine washing will be.
Even on the delicate cycle. So unless you are certain that your yarn will be okay in the machine,
I'd go with hand washing. You can hand wash in your sink or bath tub with some cool water and a small amount of mild soap or detergent.
Always lay flat to dry.
Some yarns say that it is safe to dry in the dryer and that might be the case, but you've seen what the dryer does to regular clothes right?
It shrinks them, wears them out, fades them, etc. I just don't want to take any chances with my crocheted garments so I always lay them flat to dry.
You could lay them on a table or even your blocking mat to dry. It usually only takes a couple of hours for it to dry.
Fold instead of hanging.
Crochet stretches over time, and hanging your garments will cause that to happen even quicker.
Fold your garments instead of hanging.
You can place them in a drawer or on a shelf, folded and piled on top of each other. Hanging will cause them to stretch out, lose their shape, and not fit anymore.
Never cut!
If your weaved in ends start to come out after washing or over time, instead of cutting them, pull them out and re-weave them back in securely.
If you cut them you risk cutting it too short and the ends sticking out permanently, or worse, the entire garment unraveling.
These are my very best tips for caring for your crocheted garments so that they last and continue to look great with each wear!
You can watch my live show on this on YouTube.
Pin it for Later: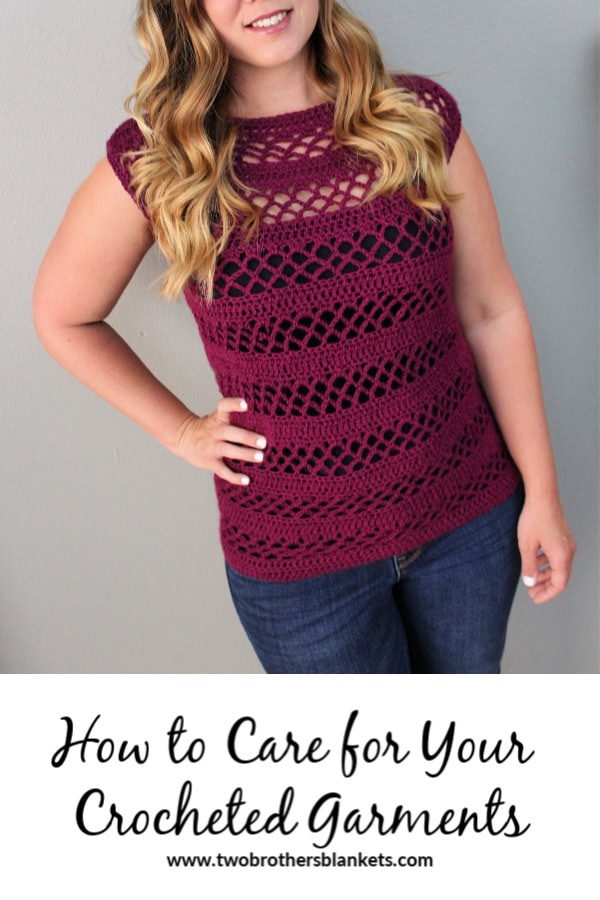 Michelle has been crocheting since 2011 and has been designing crochet patterns since 2014! She specializes in modern garments and accessories for your handmade wardrobe. Michelle has been featured in Happily Hooked Magazine, thehooknooklife.com, wecrochet.com, ourmakerlife.com, and several other websites. She is committed to providing the highest quality crochet information and patterns that instill a true feeling of pride, enjoyment, and accomplishment when completing a project.