Paisley Poncho Sweater Crochet Pattern
This post- Paisley Poncho Sweater Crochet Pattern-  contains affiliate links, which means if you make a purchase from the links below, I will get a small percentage of the sales at no additional cost to you. Thank you for your continued support! 
The Paisley Poncho Sweater crochet pattern looks like a poncho but functions like a sweater!
It is over sized and has a lovely drape to it, so you can continue to do all the things you need to do throughout the day, without a big poncho getting in your way.
The buttons keep it secure and give it the sleeve like function!
Pattern Details
The Paisley Poncho Sweater uses #6 Bulky Weight Yarn.
The pattern comes in girls sizes small through large and women's sizes small through large.
The pattern is rated Easy in difficulty. You will need to know how to do the Herringbone Half Double crochet stitch.
Recent Updates
The Paisley Poncho Sweater crochet pattern was published back in March 2015. I recently re-made it and made a few changes to give it more of a poncho look, rather than a sweater.
So it is not quite as over sized, and I left the buttons off.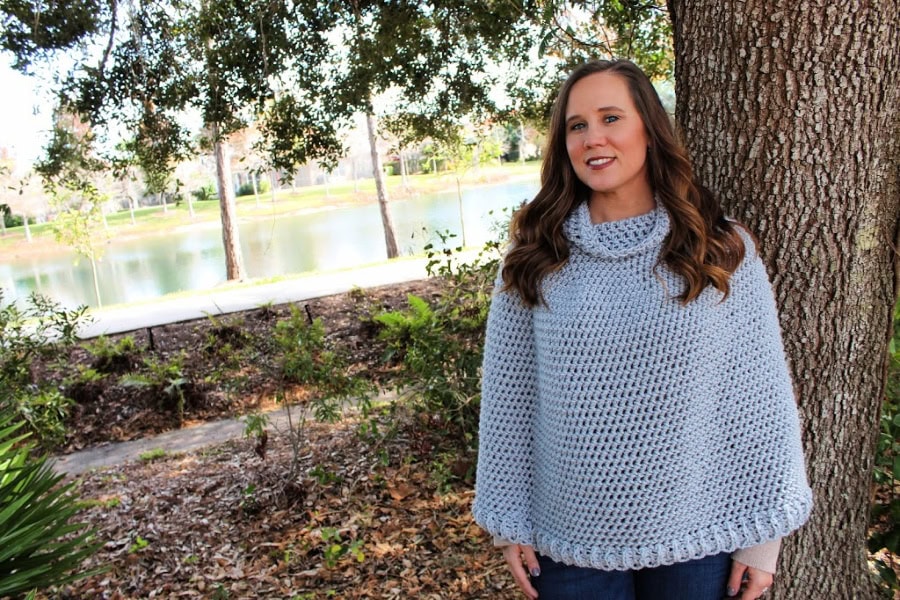 I used Lion Brand Color Made Easy bulky #5 weight yarn for my new poncho. I absolutely love this yarn. It has amazing stitch definition and is really soft and easy to work with.
I also stayed with the smaller hook throughout the poncho, instead of going up to a larger hook like the pattern calls for.
This kept my stitches tighter and made the poncho more fitted.
I kept the pattern as originally written, but did add how to create this more fitted look in the pattern notes. This way you can make it either way that you prefer!
Where to Purchase
You can purchase the Paisley Poncho Sweater crochet pattern on Ravelry and Etsy!
Want to try before you buy? Check out my ever growing list of Free Crochet Patterns!
Pin it for Later:
Michelle has been crocheting since 2011 and has been designing crochet patterns since 2014! She specializes in modern garments and accessories for your handmade wardrobe. Michelle has been featured in Happily Hooked Magazine, thehooknooklife.com, wecrochet.com, ourmakerlife.com, and several other websites. She is committed to providing the highest quality crochet information and patterns that instill a true feeling of pride, enjoyment, and accomplishment when completing a project.