This post- Chainless Foundation Single Crochet Tutorial – contains affiliate links, which means if you make a purchase from the links below, I will get a small percentage of the sales at no additional cost to you. Thank you for your continued support!
The Chainless Single Crochet stitch, also known as FSC, is a great alternative to a starting chain. It is a great crochet foundation row for virtually any project you want to use it with.
I personally love to use the foundation chainless single crochet because it basically skips a step for me (chaining and single crocheting one row/round), but it also has a great stretch to it.
I love to use it for starting necklines, rounds, and rows for just about all of my projects!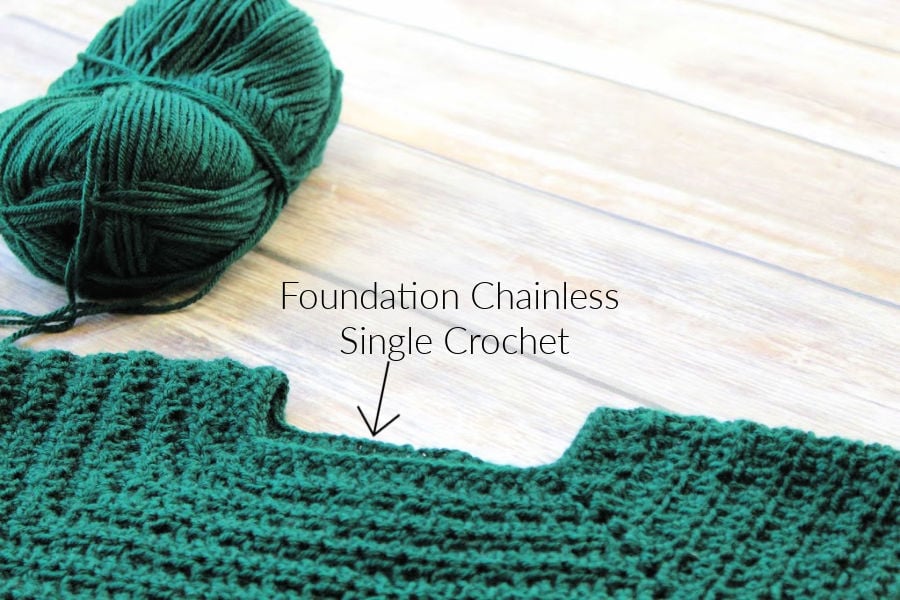 The video tutorial below is by me, a left-handed crocheter. If you are right handed, the steps will be the same but you will be working in the opposite direction.
For a right handed tutorial, and information on other types of chainless foundation stitches, check out this post by Sigoni Macaroni.
Patterns that use Chainless Foundation Single Crochet
Georgia Scarf– this is a really great project if you're just learning FSC! You'll use it in the beginning round and then the rest is just sc and chaining!
Boston Earwarmer – another quick and easy project that starts with a chainless single crochet foundation round.
Siesta Sweater– when you've gotten the hang of it, give this fun garment a try!
Getting Started
You'll want to practice with a good crochet hook, that glides through your yarn easily and is ergonomically correct.
I personally love the Furls Streamline crochet hooks. They are soft and smooth and don't hurt my hands like other hooks.
You'll also want to use a yarn you are comfortable with. A good worsted weight (#4) yarn will probably be best to practice with.
Written Instructions:
Chain 2
Insert hook into 2nd chain from hook, pull up a loop (2 loops on hook).
Yarn over, pull through one loop (2 loops on hook).
Yarn over, pull through 2 loops. (1 loop on hook). One fsc completed.
Insert hook through both loops of the backside of 1st stitch completed.
Yarn over, pull up a loop. (2 loops on hook)
Yarn over, pull through 1 loop. (2 loops on hook) Yarn over pull through 2 loops. (1 loop on hook)
Second fsc stitch completed.
Continue until you reach desired number of stitches.
Video Tutorial
Please see the video below for a step by step tutorial on how to complete the fsc stitch.
If you are right handed the steps are the same, you'll just be working in the opposite direction. If you feel more comfortable watching a right-handed tutorial, check out YouTube.
Need more left-handed tutorials? Check out my growing list of Left-Handed Crochet Stitch Tutorials!
If you are looking for one that you don't see, please leave me a comment below and let me know what stitch tutorials you'd like to see from me!
Want to practice this technique? Check out my ever growing list of Free Crochet Patterns!
Pin it for Later:
Michelle has been crocheting for over 9 years and has been designing crochet patterns for 6 of those years. She specializes in modern garments and accessories for your handmade wardrobe. Michelle has been featured in Happily Hooked Magazine, thehooknooklife.com, wecrochet.com, ourmakerlife.com, and several other websites. She is committed to providing the highest quality crochet information and patterns that instill a true feeling of pride, enjoyment, and accomplishment when completing a project.