Crochet Stitch Tutorial: Herringbone Half Double Crochet
This post- Herringbone Half Double Crochet Stitch Tutorial– contains affiliate links, which means if you make a purchase from the links below, I will get a small percentage of the sales at no additional cost to you. Thank you for your continued support!
The Herringbone Half Double Crochet stitch is a gorgeous textured stitch that I love to use when I need a tight and sturdy stitch. It is great for crocheting garments, blankets, hats, and more!
The herringbone half double crochet stitch is often abbreviated to hhdc or herr-hdc.
If you look at the photo above, you can see where the stitch gets it's name from. When worked in rows, it creates a small herringbone pattern.
Getting Started
To practice this stitch you'll want to use a good crochet hook. One that is ergonomically correct and glides through your yarn easily. Choose one that you are comfortable with.
I personally have made the switch to Furls Streamline crochet hooks. They are very smooth, longer than most hooks, and don't cause any pain.
You'll also want to use a good yarn that is weight appropriate for the size hook you are crocheting with.
Yarn pictured below is Paintbox Simply Aran. It is a great worsted (#4) weight yarn. Check out my Yarn Review for more details.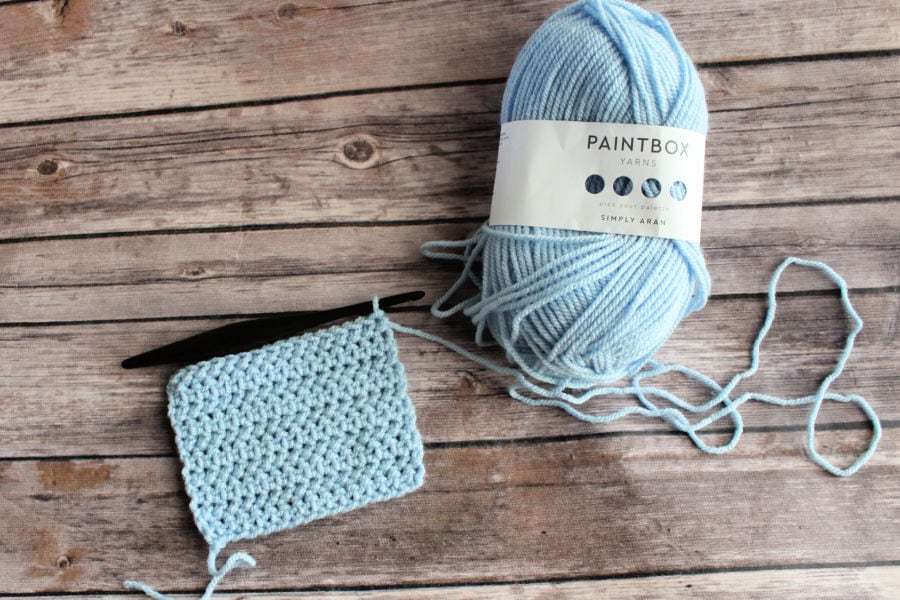 Written Instructions
Chain any number of stitches + 1
Yarn over, insert hook in 2nd ch from hook.
Yarn over, pull up a loop through ch and 1st loop on the hook (2 loops on the hook).
Yarn over, pull through both loops.
Repeat in each ch across.
Row 2 and beyond: Ch 1, turn, repeat steps for each stitch across.
Video Tutorial
Below you will find a few video tutorials on how to create the Herringbone Half Double Crochet stitch. I am left-handed, so if you are right-handed the steps will be the same but you will be working in the opposite direction.
If you have trouble following the video below, try this right-handed tutorial from Crystalized Designs.
Patterns Using the Herringbone Half Double Crochet Stitch
Charlotte Cardigan – this cozy crochet cardigan is made with bulky (#5) weight yarn and almost exclusively the hhdc stitch.
Siesta Sweater– this lightweight, two-colored top has a solid bottom half and a lacy top half. The solid bottom is made with the hhdc stitch.
Paisley Poncho – another fun winter pattern made with bulky (#5) weight yarn! This lovely poncho is made in all herringbone half double with a ribbed brim at the bottom.
September Sweater – this gorgeous v-neck, 3/4 sleeves sweater uses the hhdc stitch to give it a beautiful texture!
Want to try before you buy? Check out my ever growing list of Free Crochet Patterns!
Pin It!
Michelle has been crocheting since 2011 and has been designing crochet patterns since 2014! She specializes in modern garments and accessories for your handmade wardrobe. Michelle has been featured in Happily Hooked Magazine, thehooknooklife.com, wecrochet.com, ourmakerlife.com, and several other websites. She is committed to providing the highest quality crochet information and patterns that instill a true feeling of pride, enjoyment, and accomplishment when completing a project.