Women's Crochet Top Pattern- Leilani Raglan
This post- Women's Crochet Top Pattern- Leilani Raglan- contains affiliate links, which means if you make a purchase from the links below, I will get a small percentage of the sales at no additional cost to you. Thank you for your continued support! 
A special thanks to WeCrochet for providing the yarn for this design!
The Leilani Raglan Tee crochet pattern is a beautiful, multicolored, and basic women's crochet top that you'll love to make and wear!
I created this crochet top with summer in mind! It is made with lightweight yarn and an open stitch combo so you can wear it in warm weather!
Pattern Details
The Leilani Raglan Tee women's crochet top is a top down, raglan style project.
The pattern comes in women's sizes XS – 3X. It is fitted before blocking, but blocks out to approximately 2″ positive ease.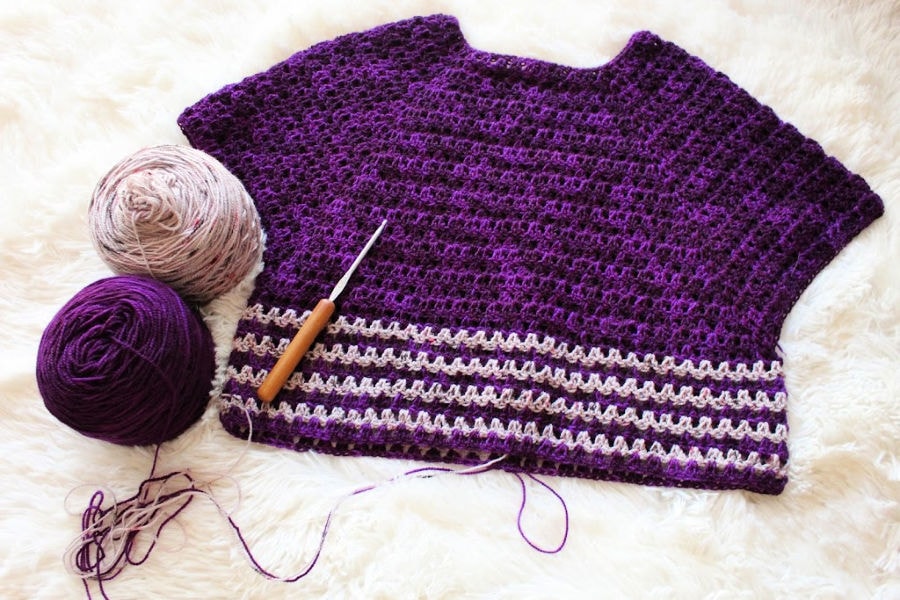 I used WeCrochet Hawthorne Fingering Kettle Dye and Hawthorne Speckle Hand Painted for my tee. This yarn is a fingering (#1) weight yarn consisting of 80% Fine Superwash Highland Wool and 20% Polyamide (Nylon).
This yarn comes in a beautiful variety of colors and tones. The Kettle Dye yarn is the deep purple you see on my tee. The colorway is called Goddess.
Hawthorne Speckle Hand Painted also has a beautiful variety of colors that are more subtle and speckled. There is also a Hawthorne Tonal Hand Painted available that is a bit more pigmented and more like a semi-solid.
These are all great yarn choices for the Leilani Raglan Tee! The yarn is gorgeous, soft, and sturdy! I really enjoyed working with it and it is very comfortable against my skin.
This pattern is rated Intermediate in pattern difficulty. It is a top-down workup with no sewing required.
Like I said above, the tee is fitted without being blocked. Once blocked out, the tee will have approximately 2-3″ of positive ease. I do recommend blocking your project, unless you want a very fitted look to your top.
More Summer Top Patterns
Join the Crochet Along!
Starting on June 15, 2020 I will be hosting a 4 week Crochet Along for this crochet top pattern in my Facebook Group! The CAL is free to join, other than the purchase of the pattern! We'd love to have you crochet along with us!
Where to Purchase
You can purchase this crochet pattern on Ravelry and Etsy!
You can also purchase the pattern kit, with the yarn included, on WeCrochet!
Want to try before you buy? Check out my ever growing list of Free Crochet Patterns!
Pin it!
Michelle has been crocheting since 2011 and has been designing crochet patterns since 2014! She specializes in modern garments and accessories for your handmade wardrobe. Michelle has been featured in Happily Hooked Magazine, thehooknooklife.com, wecrochet.com, ourmakerlife.com, and several other websites. She is committed to providing the highest quality crochet information and patterns that instill a true feeling of pride, enjoyment, and accomplishment when completing a project.