Crochet Celtic Weave Kitchen Set Pattern
This post – Crochet Celtic Weave Kitchen Set Pattern- contains affiliate links, which means if you make a purchase from the links below, I will get a small percentage of the sales at no additional cost to you. Thank you for your continued support!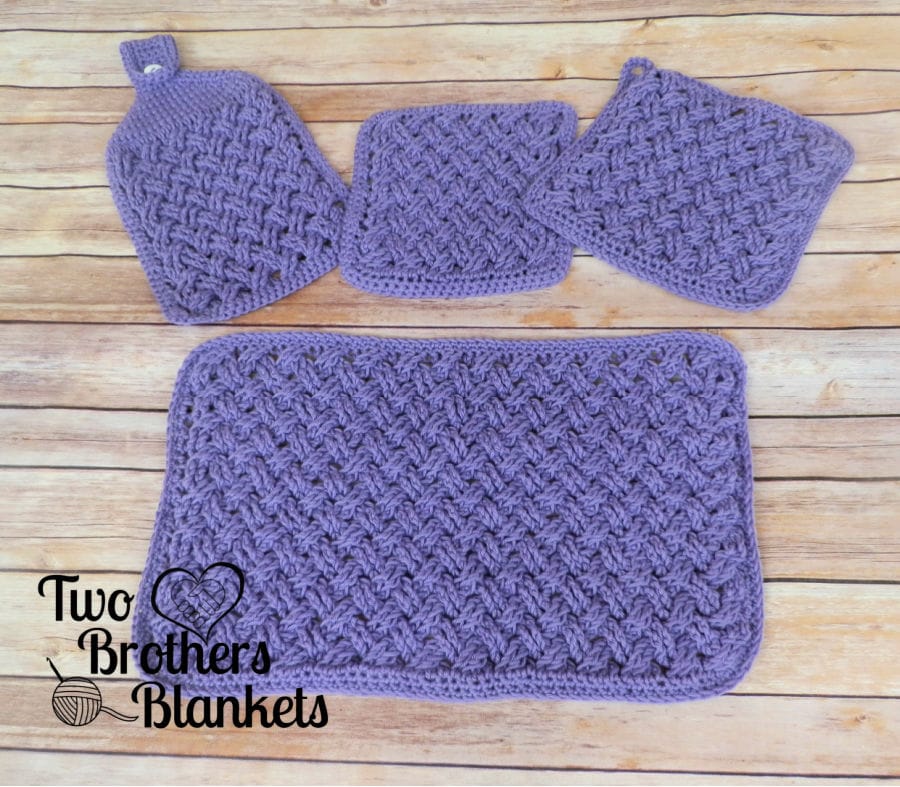 The Celtic Weave Kitchen Set crochet pattern is a gorgeous set that is great for gifting or decorating your home!
This 4 piece crochet kitchen set features the lovely Celtic Weave stitch!
Pattern Inspiration
The Celtic Weave stitch is my very favorite crochet stitch! I have a number of designs featuring this stitch, including this one! This stitch is so fun to make and is absolutely gorgeous!
I wanted to create a crochet kitchen set that was both beautiful and functional. Cotton worsted (#4) weight yarn is what I chose for this so that it could be used over and over and with extreme heat or cold.
The four pieces I chose were the ones I thought would be the most functional. A place mat for the tables, a hanging towel and hot pad for cooking, and a washcloth for dishes and cleaning.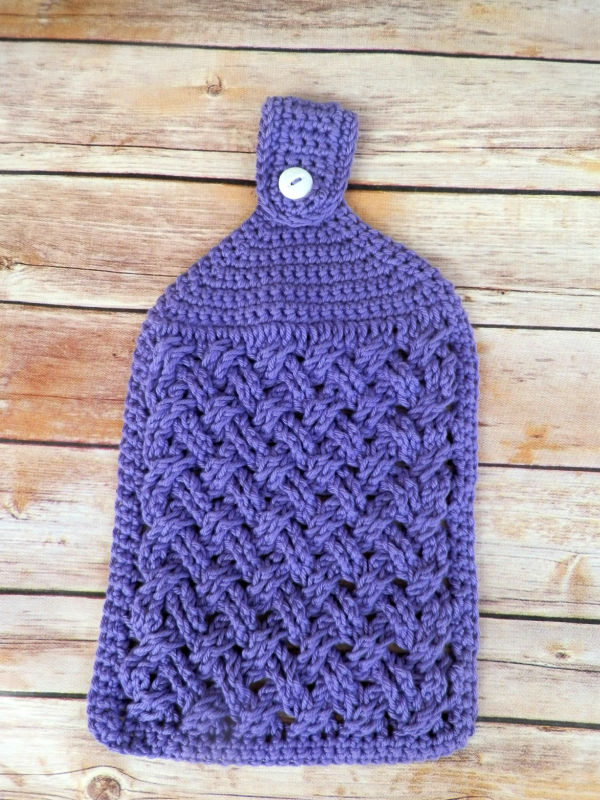 Pattern Details
The set is made with worsted (#4) weight cotton yarn. I used Hobby Lobby's I Love This Cotton for my set. This yarn is a great 100% cotton yarn. It is very soft and comes in so many beautiful colors!
You will need 560-600 yards to make each piece of the crochet kitchen set, with more yarn if you plan to make multiples of each piece.
This pattern is rated intermediate in pattern difficulty. You will need to know how to do the Celtic Weave Crochet Stitch.
This stitch includes front and back post triple crochet stitches. You will also need to know basic stitches like single crochet.
The approximate sizing for each piece of the set is as follows:
Dish towel 16"x 8" (from top not folded over)
Wash cloth 8"x 8"
Hot Pad 9"x 9"
Placemat 12"x 17"
Where to Purchase
You can purchase the Celtic Weave Kitchen Set crochet pattern on Ravelry and Etsy!
Want to try before you buy? Check out my ever growing list of Free Crochet Patterns!
Pin It!
More Celtic Weave Crochet Patterns
Michelle has been crocheting since 2011 and has been designing crochet patterns since 2014! She specializes in modern garments and accessories for your handmade wardrobe. Michelle has been featured in Happily Hooked Magazine, thehooknooklife.com, wecrochet.com, ourmakerlife.com, and several other websites. She is committed to providing the highest quality crochet information and patterns that instill a true feeling of pride, enjoyment, and accomplishment when completing a project.