Crochet Tank Top Pattern- Edgewater Tank
This post- Crochet Tank Top Pattern – Edgewater Tank – contains affiliate links, which means if you make a purchase from the links below, I will get a small percentage of the sales at no additional cost to you. Thank you for your continued support!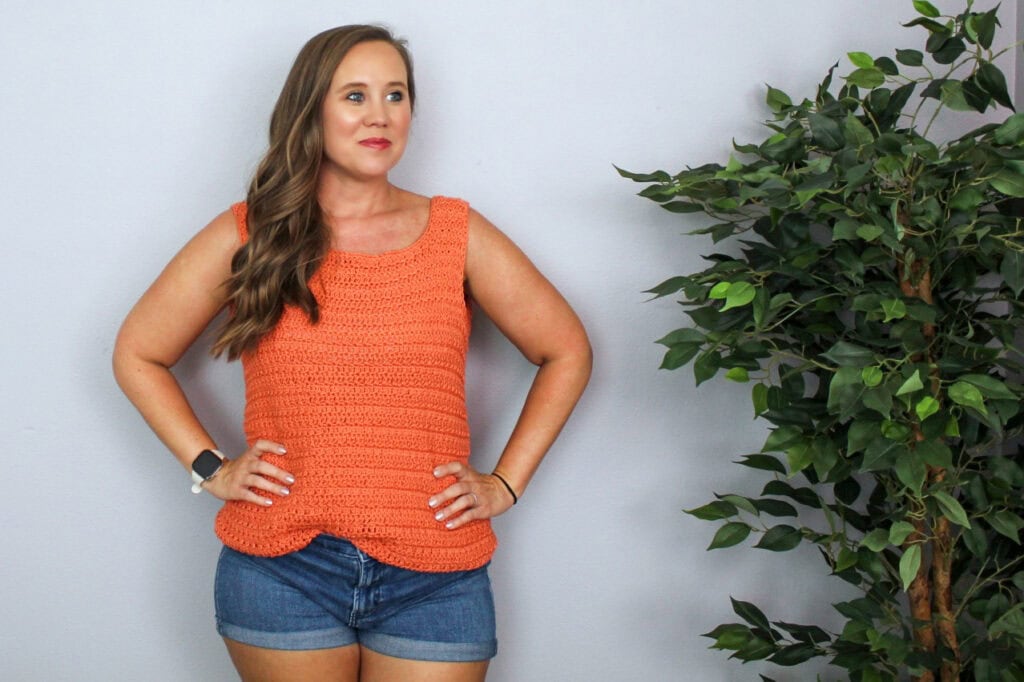 I am so excited to share the Edgewater Tank Top crochet pattern! It is super simple to make and creates a nice tight fabric so you can wear it as a standalone top! You'll love wearing this crocheted top all summer long!
Inspiration
I have honestly wanted to make a scoop necked crochet tank top for a while now. Many of my other tank tops have more of a square, raglan neckline to them. Or they weren't really tank tops but of more a sleeveless crochet top.
So I set off to make this tank top, and after trying to decide from many stitches and workup styles, I decided on the Edgewater stitch combo and creating a bottom up workup.
I just love the Edgewater collection of crochet patterns! From the sweater dress to the cowl, they are some of my favorite designs! Now having a tank top in the collection really is the cherry on top!
This stitch combo is tight enough that you can wear the crochet tank top alone without another camisole or shirt underneath. At the same time it is very flexible and stretchy, letting air in and keeping you cool.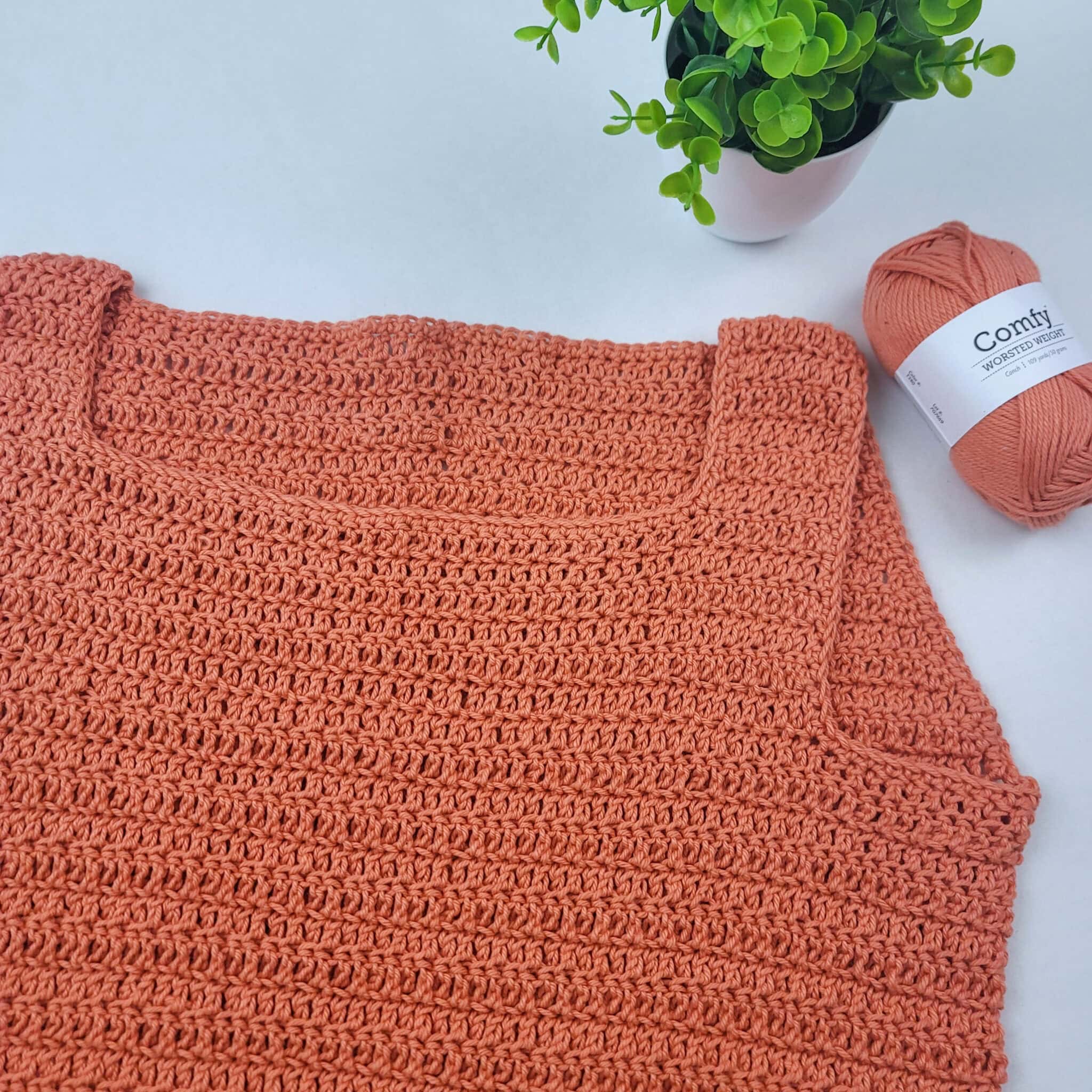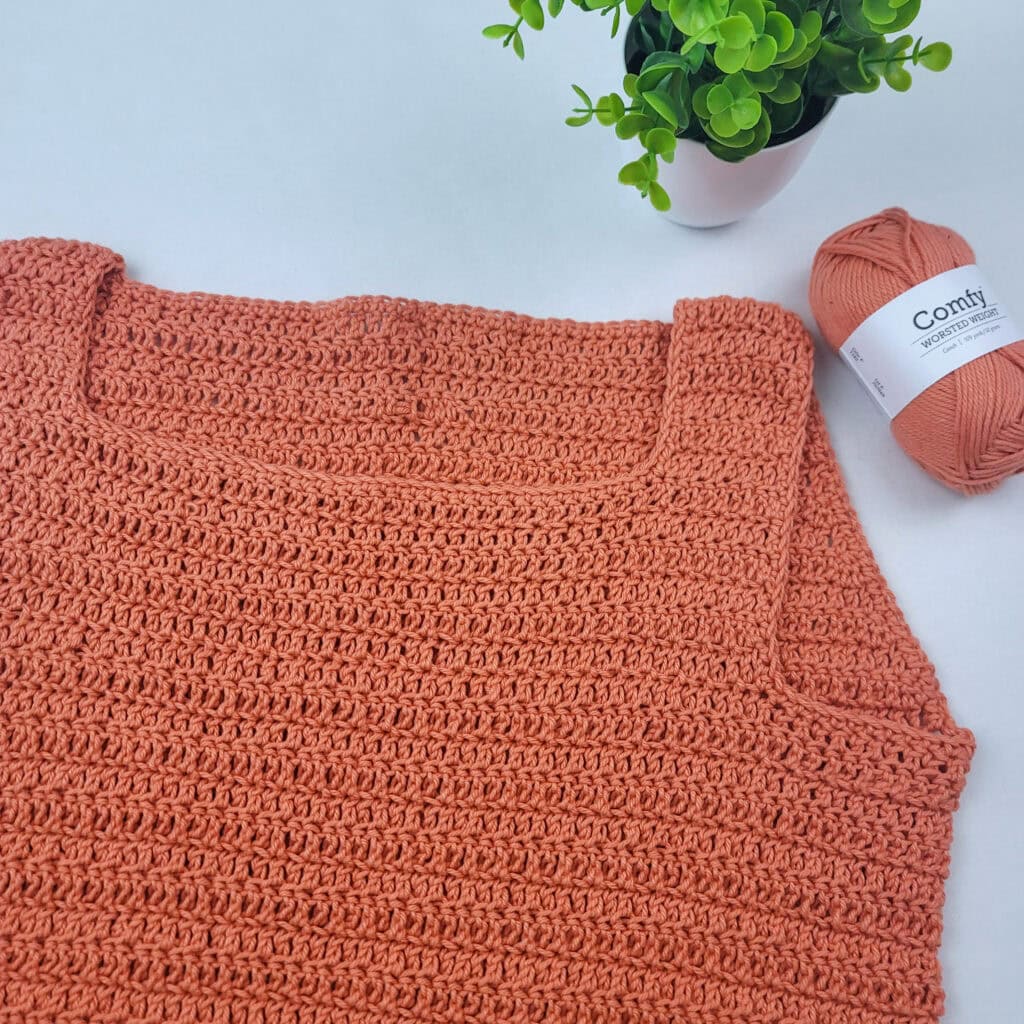 Pattern Details
The Edgewater Tank Top crochet pattern is made using a light worsted (#4) weight yarn.
I used WeCrochet Comfy Worsted (#4) for this project in the colorway Conch. This cotton/acrylic blend yarn is soft and cool and great for garments!
The Edgewater Tank Crochet Pattern comes with instructions for women's sizes XS to 5X. It has 2″ of positive ease and lots of stretch. I am 5'3″ with a 36″ bust and modeling a size medium.
The Edgewater Tank Top is a bottom up project. You will create the bottom of the tank in the round and then move to rows to create the armholes.
The back panel provides full coverage, with only a small amount of decreasing are you go. This keeps those pesky bra straps from showing. This crochet tank also has a tight enough stitch that you can wear it without anything underneath or with just a light camisole tank under it.
The front panel starts as one panel and then is split into two straps. You will then seam the top of the straps to the top of the back panel.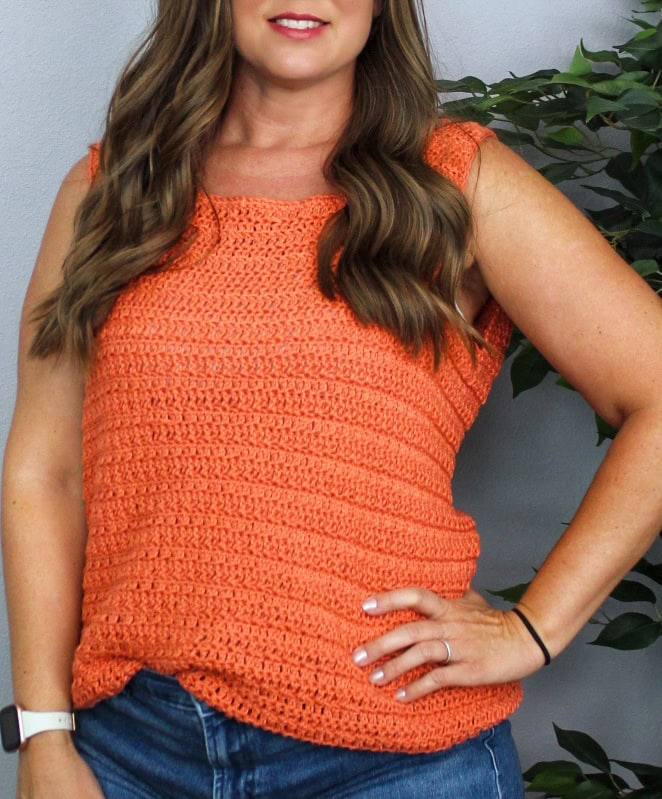 This pattern is rated Intermediate in difficulty level. The project uses very basic stitches, but does have a bit of shaping and seaming at the armholes and shoulders.
You will need to be familiar with how to decrease double crochet stitches, count and join stitches within a pattern, and sew pieces of crochet together.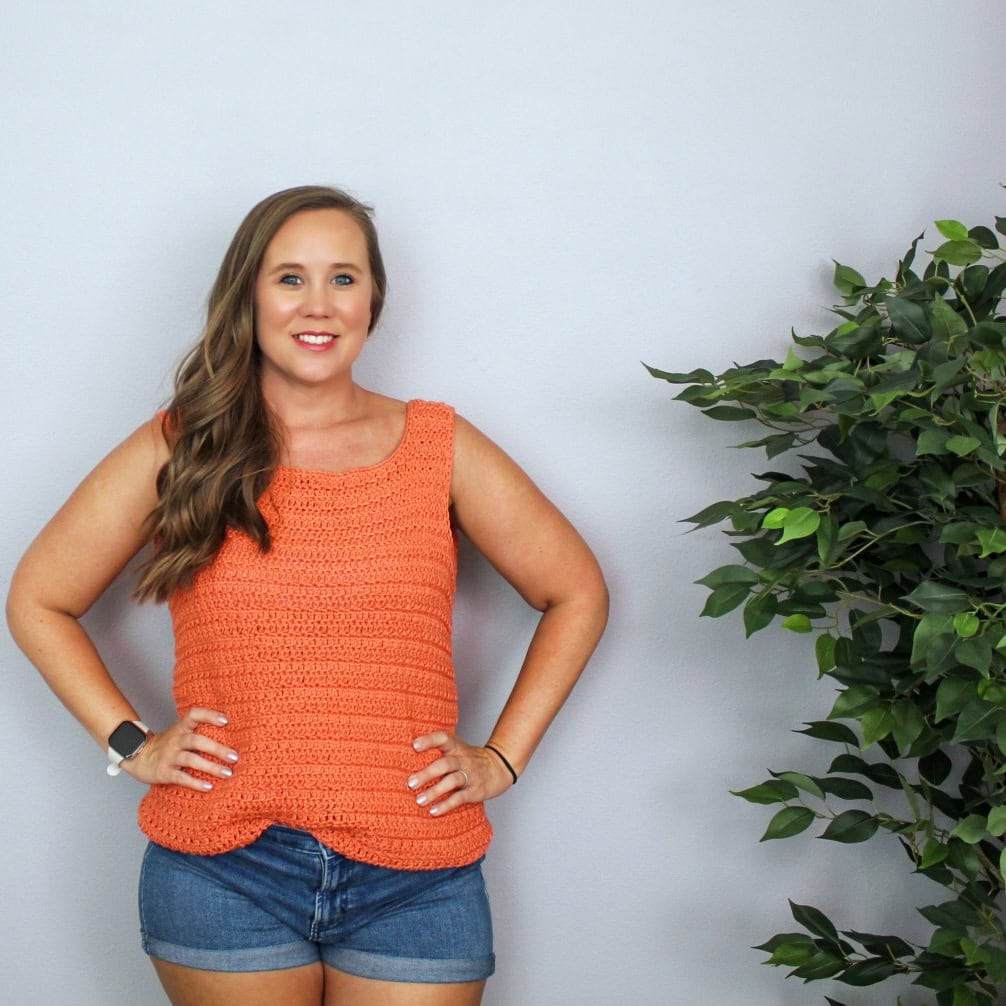 Stitch Tutorial
More Edgewater Patterns
Where to Purchase
You can purchase the Edgewater Tank Top crochet pattern on Ravelry and Etsy!
Want to try before you buy? Check out my ever growing list of Free Crochet Patterns!
Pin It!
Michelle has been crocheting since 2011 and has been designing crochet patterns since 2014! She specializes in modern garments and accessories for your handmade wardrobe. Michelle has been featured in Happily Hooked Magazine, thehooknooklife.com, wecrochet.com, ourmakerlife.com, and several other websites. She is committed to providing the highest quality crochet information and patterns that instill a true feeling of pride, enjoyment, and accomplishment when completing a project.