This post- Summer Stroll Vest Crochet Pattern- may contain affiliate links, which means if you make a purchase from the links below, I will get a small percentage of the sales at no additional cost to you. Thank you for your continued support!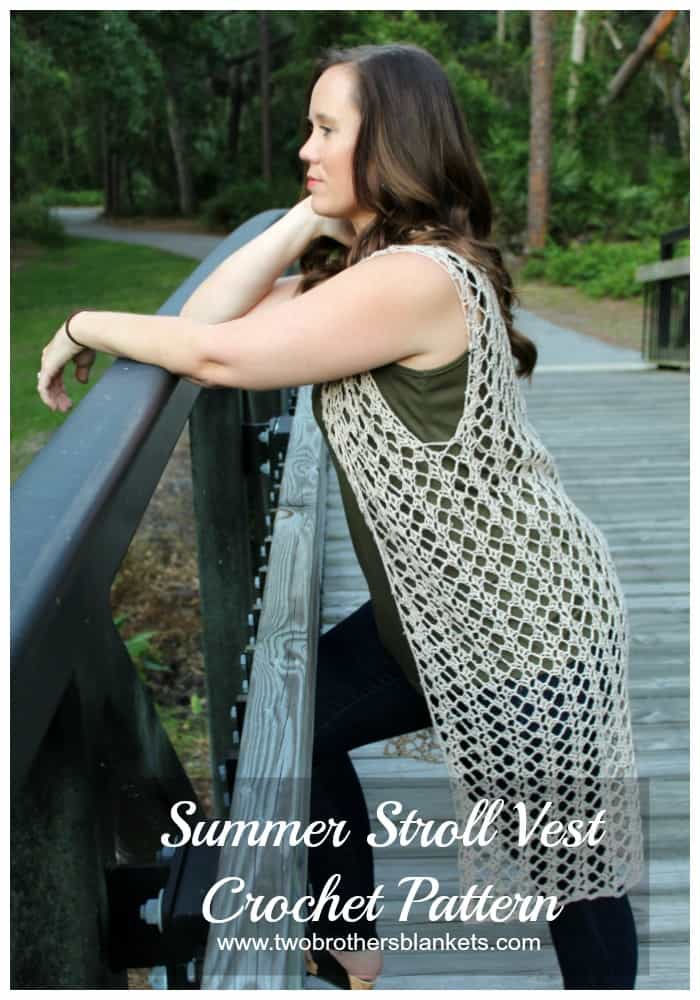 I am all about the basics right now. The Tied and True Tee was the ideal basic tee and now I've got the ideal basic summer vest for you! Look great wearing this vest over literally any outfit! It's a quick workup and only uses basic crochet stitches to create the amazing lacy look!
I used Knit Picks Stroll Tweed for this design. Stroll tweed is a fingering weight (#1) yarn made up of 65% superwash merino, 25% nylon, and 10% donegal. It is a really true tweed yarn and it comes in 20 different colorways! The tweed wasn't bad to work with. Pulling out my stitches was a bit difficult at times, but that happens with any tweed yarn. The drape on this yarn was amazing! It was super soft and flowy, especially after blocking!
More Pattern Details
This vest does require blocking! I am going to put that out there right now. You will want to block your project to get the length and drape you see in the photos. I wet blocked my vest before I seamed the shoulders together. Since it's such a lightweight yarn and has such open stitch work it only took about 2 hours to dry.
The Summer Stroll Vest crochet pattern comes in sizes XS-2X. You will crochet the vest from the bottom up with just a tiny bit of seaming at the shoulders. Plus the pattern has pictures on how to fold the vest and where to seam it. You'll also get the multiples in which the stitches are worked so you can make the pattern as big or as small as you like.
You can purchase the crochet pattern on Ravelry or Etsy!
Want to try before you buy? Check out my growing list of Free Crochet Patterns!