Summer Crochet Cardigan Pattern- Jayda
This post- Summer Crochet Cardigan Pattern- Jayda Cardigan- contains affiliate links, which means if you make a purchase from the links below, I will get a small percentage of the sales at no additional cost to you. Thank you for your continued support!
Special thanks to WeCrochet for providing the yarn for this pattern!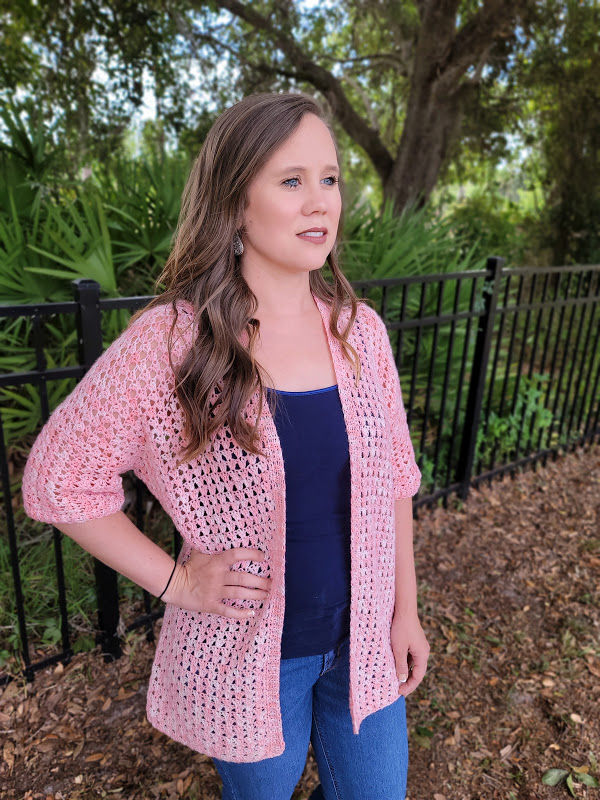 The Jayda Cardigan is going to be your new go-to summer crochet cardigan! This simple project is made with lightweight yarn and a fairly open stitch work, making it perfect for warmer months!
Pattern Inspiration
This is one of those patterns where the yarn came first, which doesn't happen often. I originally wanted to use this yarn to make a summer top, but then decided to pivot and go for a summer cardigan. It had been a while since I designed a summer crochet cardigan so I decided to go for it!
I went with a really simple stitch and let the yarn and the style do the heavy lifting for this design. A summer crochet cardigan looks and fits best when it's slightly oversized and has a really nice drape!
I created this cardigan with 4″ of positive ease to make it slightly oversized and then blocked it to create even more give and flow! I love how it looks and feels, and it goes with nearly any outfit!
Pattern Details
This summer crochet cardigan pattern comes in both children's and adult sizes! You'll get children's sizes 2-10 and adult sizes XS-5X with your pattern purchase! There will be 3 separate downloads in your one purchase.
Your cardigan will be constructed from the bottom up in one big panel to start and then split into 3 panels to create the armholes. You will then seam at the shoulders and work your sleeves and trim.
This project is super customizable and the pattern includes the multiples used to work the width. You can also adjust the length of both the entire cardigan and the sleeves.
I am 5'3″ with 38″ hips and 36″ bust and I am modeling a size medium in the photos.
The pattern is rated intermediate in pattern difficulty. The stitches used are very simple, just double crochet and single crochet. But the construction is why I labeled this as intermediate. You need to be somewhat familiar with measuring for a garment, ease, and constructing a garment.
I highly recommend my Ultimate Guide to Crocheting Garments email sequence if you want to learn more about crocheting garments!
The Yarn
I used WeCrochet's Hawthorne Fingering Kettle Dye yarn in the colorway Daphne. This beautiful fingering (#1) weight yarn is made of 80% Fine Superwash Highland Wool and 20% Polyamide. It is hand dyed and simply gorgeous!
This yarn comes in a skein of 357 yards and is able to be washed in the machine on the gentle cycle and tumble dried on low heat.
It comes in 21 beautiful colors that would all look great as a Jayda Cardigan!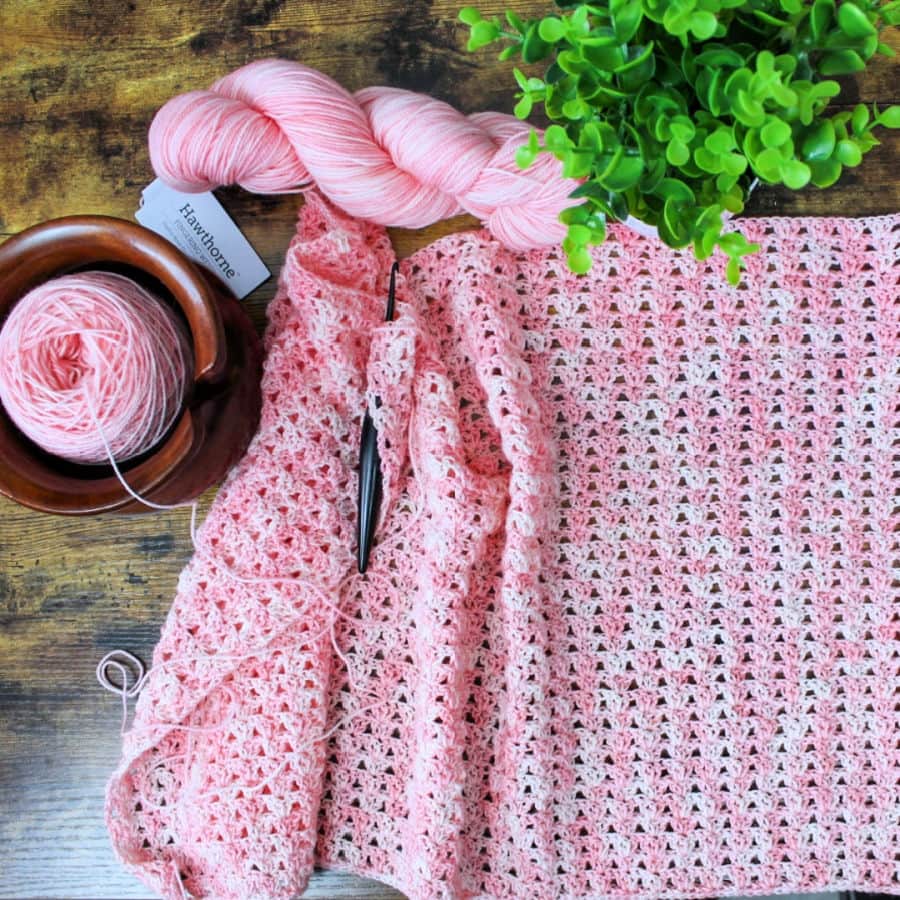 Where to Purchase
You can purchase the Jayda Cardigan crochet pattern on Ravelry and Etsy!
Want to try before you buy? Check out my list of Free Crochet Patterns!
More Cardigan Patterns
Pin It!
Michelle has been crocheting since 2011 and has been designing crochet patterns since 2014! She specializes in modern garments and accessories for your handmade wardrobe. Michelle has been featured in Happily Hooked Magazine, thehooknooklife.com, wecrochet.com, ourmakerlife.com, and several other websites. She is committed to providing the highest quality crochet information and patterns that instill a true feeling of pride, enjoyment, and accomplishment when completing a project.